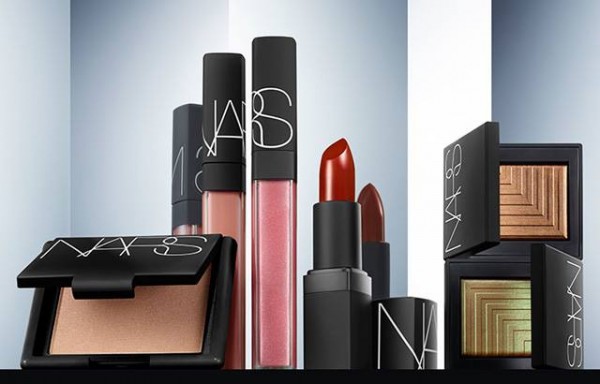 Nars' colour collection for this Fall is right on trend, with a mix of products that help you strobe and add colour to your palette.
The literal highlight of the collection is the blush in Tribulation ($37) which is a shimmering rose-gold.  It's definitely more on the gold side, and it's really a perfect highlighting powder rather than a blush.  The texture is soft, silky, and smooth and because it's a blush, it's not as shimmery as a highlighter so you can put on just a little or a  lot.
See how it looks like a beige rose in the pan?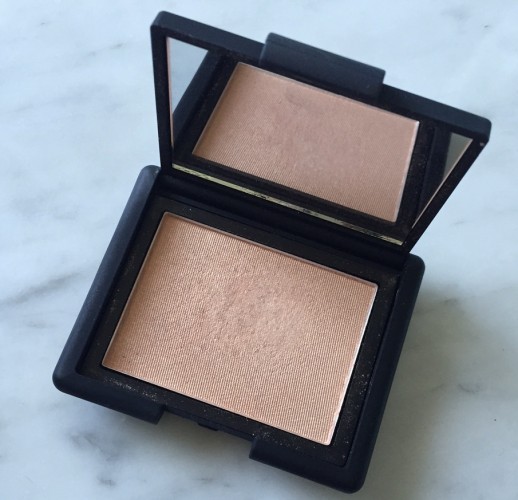 But this is what you get with one pass of your finger: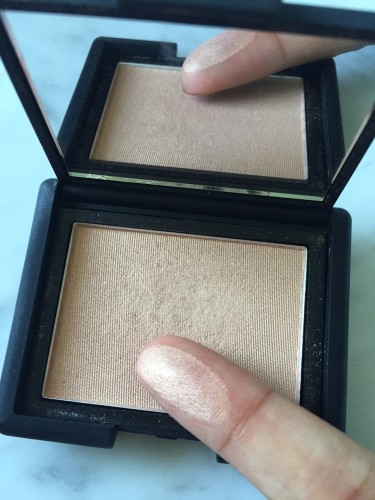 It's such a pretty colour but definitely not adding any "blush" to your look.  As you can see from the picture, I've used it lots – that's because it doubles well as a shadow!
My second favourite products are the new Dual Intensity Eyeshadows ($36):
Telesto

Brown with gold shimmer

Pasiphae

Shimmering peacock burgundy
Pasiphae is my favourite because it makes for a pretty unique smoky eye, and Telesto works great as a crease colour, although if you have blue eyes, it would definitely work well as a smoky base.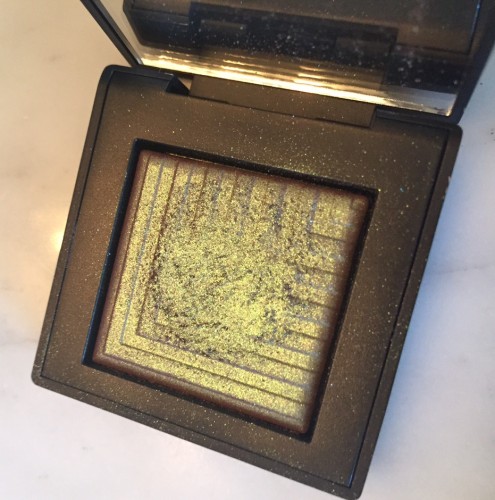 Look at the gorgeous duochrome nature of Pasiphae.  So pretty.  

The collection also includes a whole new set of Velvet Shadow Sticks ($35 each).  These are amazing for quick makeup because they completely stick to the eyelid and don't budge – you don't even need to use a primer with them.  Plus, they are so soft, that you can even dip an eyeliner brush into them and use them at the base of your lashes.
The light shimmery colours were almost metallic on my eye, so I preferred the darker colours.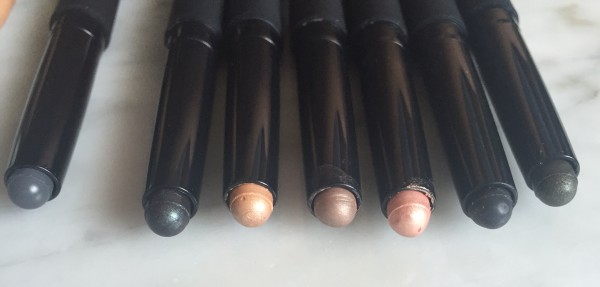 Colours are:
Hollywoodland

Pale gold

Aigle Noir

Black infused with gold shimmer

Glenan

Navy

Goddess

Pink champagne

Oaxaca

Quartz

Sukhothai

Shimmering peacock

Filbuste

Black
Sukhothai (second from left) was one of my favourites to use as an accent colour, and Oaxaca (in the middle) is a gorgeous shimmering mushroom colour that works so well as a neutral.
The collection also includes a lipstick ($34) in VIP Red (brick red), and two lip glosses ($32) – Chelsea Girls, which is a pink beige, and Baby Doll, which is is a shimmery candy pink.
The entire collection is available now at all NARS retailers (Sephora, Hudson's Bay, Holt Renfrew, Nordstrom, and Murale) and www.narscosmetics.com.