The hottest trend this Spring is going to be coordinating everything. Cheeks to lips is a great place to start, and a beauty rule all the time should be that the tone of cheeks and lips should coordinate. Think: blue-toned blush with a blue-toned lippie, or warm cheek colour with warm lips.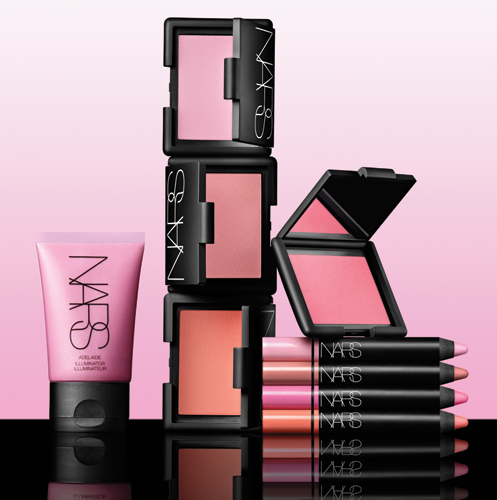 Nars makes everything easy with their Final Cut Collection out this month. It's lips and cheeks that are completely and professionally coordinated. We're not just talking warm and cool tones here. We're taking colours down to the pink.
The collection has four matte blushes and four Satin Lip Pencils in coordinating colours. For those of you who can't live without the shimmer, there's the Adelaide Illuminator which is a sheer shimmering pink.
The blush colours are:
Sex Fantasy Blush – Pale lavender pink (This blush is so pale and the lightest one in the collection. It would work only on very fair skin.)
New Attitude Blush – Cherry blossom pink (A medium-toned, easy to work with pink. The brightest of the bunch.)
Final Cut Blush – Peach coral
Love Blush – Tea rose (The deepest blush of the lot.)
Coordinating Satin Lip Pencil colours are:
Stourhead Satin Lip Pencil – Pale lavender pink (Again, more like a whitish pink, only suitable for very fair skin-tones.)
Villa Lante Satin Lip Pencil – Cherry blossom pink
Torres del Paine Satin Lip Pencil – Peach coral
Descanso Satin Lip Pencil – Tea rose
The blushes and lip pencils are both super pigmented. It's definitely easier to apply the blushes with a light hand and build up the colour accordingly. The lip pencils seem to wear lighter than they initially seem so keep that in mind if you're deciding on which to get.
For me, the New Attitude Blush and its coordinating pencil are products I can't live without.  They just complete my look and I love that the matching is already done for me.  The blushes are really the stars of this collection – if you're a regular Nars fan you know that they have tons of shimmery blushes and not enough matte ones, so it's nice that the illumination is optional now.
$33 for the Blushes, $30 for the Lip Pencils, and $36 for the Illuminator.
Available exclusively at Holt Renfrew Nars counters.