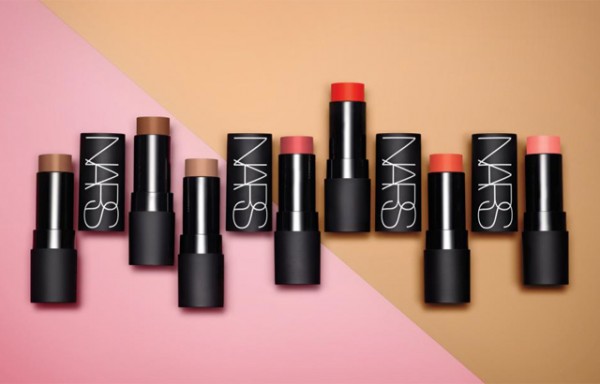 On April 14th, Nars comes out with a matte version of its popular multi-purpose colours called Multiples. They're cream-to-powder formulas that are made for use on eyes, cheeks, lips.. anywhere you want them.
Of the eight shades, three are bronze/tans, while the other four are rosy/pinky shades that would work well on lips and cheeks.
The formula is lovely for use on the face. It's creamy yet matte, and not shiny at all. There's no grease with these, and at the same time, they're not overly powdery either. They blend into skin, and have a natural-looking satin finish.
I do wish that there was a bronze shade with a bit of grey in it so that it would work better as a contour colour. I tried contouring with Cappadoce and I found that it just looked like I had bronzer in the wrong place – not the look that I was going for. This would work better as a cheek colour and perhaps for some shading on the lid.
Siam is a beautiful coral/red shade that is uber-bright. It's the perfect pop of colour for a night out and because I can use it on my cheeks, it means that I can coordinate my cheek and lip colour for a polished look. Siam doesn't look great on the lips unless they are well-exfoliated and moisturized. The formula just stuck to dry spots and went on unevenly. This needs to be dabbed on with fingers or a small brush. It's not the type of colour you throw on in the car.
Pick these up at Nars counters for $46.