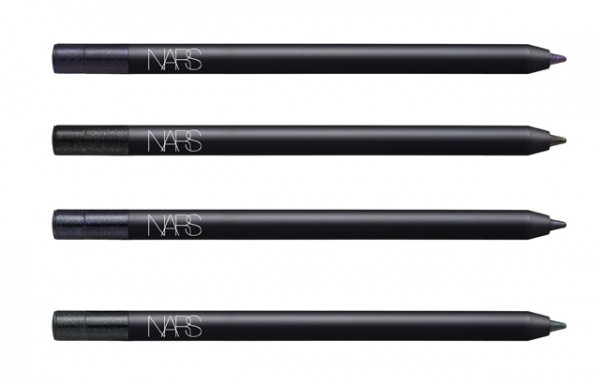 I cannot live without these eyeliners!
This Autumn, Nars comes out with the Night Series eyeliners as part of their fall collection.
They've previously come out with the Night Series eyeshadows and these twist-up, sharpener-included, pencil eyeliners are in the same veins of the eyeshadows. They are black-bases with different coloured pearl and glitter in them. The best-seller seemed to be the Night Clubbing shadow, a gorgeous black with gold shimmer in it, and now it's available in an eyeliner format too.
I have the Night Series eyeliners in Night Clubbing and Night Bird.
Night Bird is my favourite – it is a black base with a purple shimmer in it. I love purple against brown eyes, and I love black liner, so this is the perfect combination of the two for me.
The other colours are:
Night Flight – Black with cobalt blue pearl
Night Porter – Black with green pearl
I like these pencil eyeliners better than anything else in my makeup drawer right now. Firstly, they're in a long-wearing waterproof formula that is awesome. Eyeliner tends to wear away quickly especially if you're using it very close to the lash-line, and I find that I can get a full day of wear from these even if the weather outside is very humid.
They're also not too soft and not too pigmented, so you're really able to control where and how you apply them. It's easy to get super close to the lash-line, and you can also smudge them with your fingers for an eyeshadow effect. The best part is that once the liners set, they don't move, which means that if you use them with a primer you can even wear them as eyeshadow! The pencil is thin enough that you have control over exactly where you apply the liner, and then you can smudge the edges so that the liner looks blended with eyeshadow.
If the glitter works for you – it adds a touch of something extra if you're normally wearing black liner – then these are totally worth checking out.
The liners are $28, and available now at select NARS retailers (including Sephora, Hudson's Bay, Holt Renfrew and Murale).