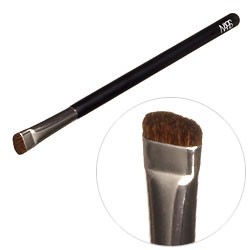 My latest obsession these days is brushes.  Having the right tools makes applying makeup so much easier and you can do a much better job of it!  To that end, I've always had all the basic brushes, but now I want the ones that can take makeup application to the next level.  I've been stocking up, and you, my lovely readers, get to hear all about it.
My latest discovery?
The Nars Smudge brush.  I had no idea how different brands take things to the next level until I got my hands on this brush and used it.
The Smudge Brush is a set of tightly packed yet super soft hairs that come together in a perfect fine line.  This means that you can apply shadow right next to your lashes, and the shadow won't go all over the place.  This can also be used to smudge eyeliner, and because it's so soft, you won't be hurting your lids.
I actually use this to apply shadow in the outer corner of my eyelid, and smudge into my crease, and it passes the test of a good brush.  The test is that you can hardly even feel it touching your eye – that's how soft the brush is.  Yet, you still get control and can get the brush to do just what you want.  You don't feel it but you see the effect.
The Nars Smudge Brush retails for $26.  Worth every penny.