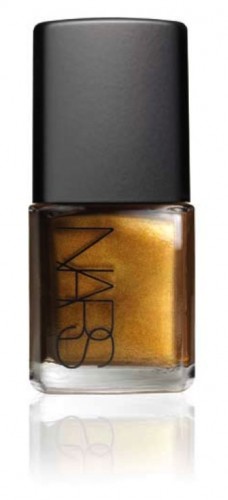 Though the trend this season has been neutral and light shades of polish, many companies have offered us products removed from those. Nars offers Desperado, a shimmery bronze that would make for a great night time look.
Nars Desperado polish really does wear like a true dark bronze and is more of a dramatic look. I think that this is a colour perfect for parties, but I really didn't like wearing it to work much. I prefer my daytime looks to be more subtle.
Still the colour is fantastic. I found it to be slightly sheer, and have put 3 coats in the picture you see. I know that my manicure is imperfect, but I had to sort through makeup too soon after applying the polish so it's not a reflection of the product, but more of my patience.
What do you think of this colour?