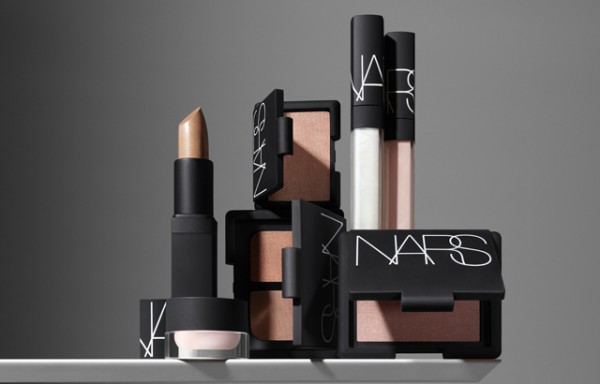 Look for this collection on counters on February 1st (Sephora had it out last week).
Keeping with the light-infused natural tones that we're going to be seeing this spring comes the Nars Spring Colour Collection.  Think of a monochromatic neutral colour palette and that's what you're going to get when you see this collection. Barely there blush (time to put away anything bright for now), a shimmery monochrome on the lids, and tan lips covered in gloss to add texture to change up the look is what you're going to be getting with this collection.
Shades are:
Porto Venere Eye Paint, $30 (Soft very pale pink, this would work well as a primer)
Reckless Blush, $35 (Sheer pink shimmer, super shimmery)
Valhalla Single Eyeshadow, $28 (Soft shimmering pink peach)
Liguria Lipstick, $32 (Nude caramel)
St-Paul-De-Vence Duo Eyeshadow, $40 (L) Shimmering nectarine (R) Semi-matte Chestnut (wearable and brightening)
Guyane Lip Gloss, $31 Seashell pink
Vent Salé Lip Gloss, $31 Silver highlight
The eyeshadow duo is on point.  You might think that Nectarine could be difficult to pull off on the lids, but actually this colour is so brightening that you'll think you've had an eye lift.  You'll look more awake and put together with just the shade on the left, while the chestnut is perfect for making the shade deeper, or to use as a contour.  I like that it's not as shimmery as the nectarine because it works well as an eyeliner too.
Check out the entire collection at Nars counters and invest in something soft this spring.