It's so hard to not fall in love with a Nars product, but truth be told, I'm having a love/hate moment with blushes right now.  The winter has made me so pale that I feel like any and all blush is so obvious, and I'm liking just a bit of blush as a contour and then a tough of highlight on my cheeks.
Then I see pictures of myself where I'm wearing a nice pink blush, and I just look so fresh that I want to go back to a pretty pink blush.  It's truly a toss up right now, and I think that I'm done with my NYX cheek palette and have moved on to this one.
The Nars Unfiltered Cheek Palettes feature six blushes that can be worn separately or blended together.  The Unfiltered II Palette (which I do not own) features all pinks, but I have the Unfiltered I Palette which is decidedly more daring and unusual.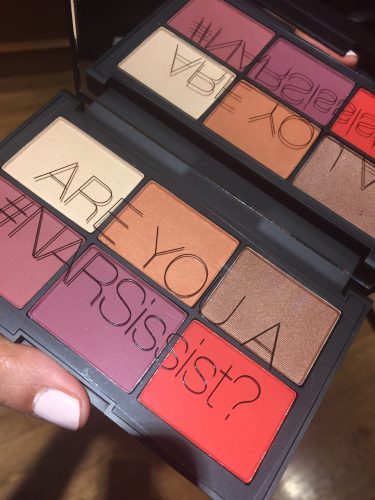 Colours are: (left to right, top row three and then bottom row three)
Watch Me (opalescent gold sheen), Me First (apricot sheen), Takeover (copper rose sheen), Out There (deep russet matte), Chic (rich raspberry matte), Exhibit A (red matte)
The mattes are so pigmented and out there, that the only way I can wear them wearable is to dip my brush into setting powder, then the blush, and then into setting powder again, before blending on to fully powdered skin. They are nice and very long-lasting but also very dramatic and not to be used when you're in a rush because otherwise you'll end up with a messy cheek.
Takeover (in the top right-hand corner) is the one I'm having a moment with right now.  It's pretty, shimmery, and just easy to wear on the tops of my cheeks.  I like the shimmer – it's not natural, but it's pretty.
The palette is available at Sephora for $76.