When it comes to makeup trends, this year is going to be all about real skin.  We've done the contour, the strobing, the weightless foundation that still covers like crazy, but now take a step back and get back to basics.  Take care of your skin, conceal where and if needed, and try to do with less.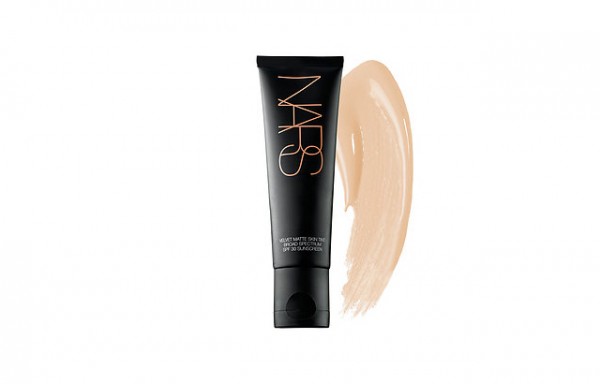 Of course, it's easy for me to say.  Skinceuticals fixed my skin so I'm feeling the less is more vibe, and the new Nars Velvet Matte Skin Tint is totally my jam.
This is a tint for those who have oily skin, although it will also work for people with normal skin as long as there are no obvious dry patches. If you're a Nars fan, you may already have the Pure Radiant Tinted Moisturizer.  I do, and that tinted moisturizer has shimmer in it so it's not great if you're trying to avoid the oily look.  The Velvet Matte Skin Tint is like they've mixed a primer with foundation which means that this has an ultra-smooth matte finish just like a very famous primer, but it's tinted with skin-true shades the way only Nars can do.
The texture is so smooth and creamy, and the squeeze tube makes it so easy to get just the right amount of product.  I find that I only need a pea-sized amount for my whole entire face and it's even enough to blend down my chin to my neck.  I use my fingers to apply as it just seems too dry to use a brush with.  The finish is soft and indeed velvety – just like natural, powdered skin.  No need to use powder with this as the finish itself doesn't really need it.
It's about as pigmented as the Pure Radiant Tinted Moisturizer but it goes on matte and absorbs oil a little bit throughout the day.  The coverage is light but buildable to medium, and it mixes very well with moisturizer if you want to make it even more sheer.   I have oily skin and find that it does wear off and move as the day goes on… but that is to be expected.  It's just the natural wear of the makeup.
The shades are also the same as those of the Pure Radiant Tinted Moisturizer, so if you're familiar with that then you'll be able to find the right shade in this too.  I have St. Moritz and the yellow tones match my skin completely yet let it show through – this is a very forgiving and natural-looking tint, especially perfect for those of us who are afraid of foundation cake face!
All in all… I said that I'm giving up foundation this year, and I'm sticking to that.  But when I get ready to go out, I use this and it's the only coverage I need.
Pick it up at Sephora, The Bay, and Holt Renfrew for $54.