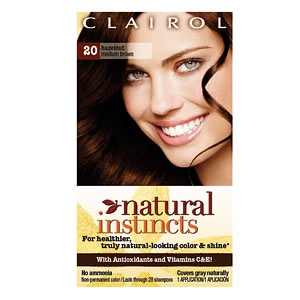 I do dye my hair, and last weekend I tried Natural Instincts hair colour for the first time.  I thought it would be good for a change because it's supposed to be gentler for the hair and it fades out instead of growing out, so your roots aren't as obvious as they are when you use a permanent dye.  Oh yes, it's non-permanent which is what really makes it gentler.
Turns out that gentler only goes so far.
I found this kind of difficult to apply because it's so runny.  I also missed the comb through nozzle top that has become the norm with hair dye, and I've gotten so used to that because I find that it made it easier to comb through my long hair.
The other thing that I didn't like about this was that it really didn't cover grey completely (yes, I admit it, I do have some grey).  It covered some of the grey, but it definitely didn't get the parts that were close to my scalp, so I still have some silver peeking out.
Overall, my hair looks ok.  It doesn't look like I just dyed it, which is nice, but it does also look like I'm going to be due for a colour in a couple of weeks, which is not so nice, because I like to wait 6 weeks between colouring.
If you're looking for something that looks very natural and you want to dye your hair, then this would be a good choice, but if you have a lot of gray hair, then not so much.