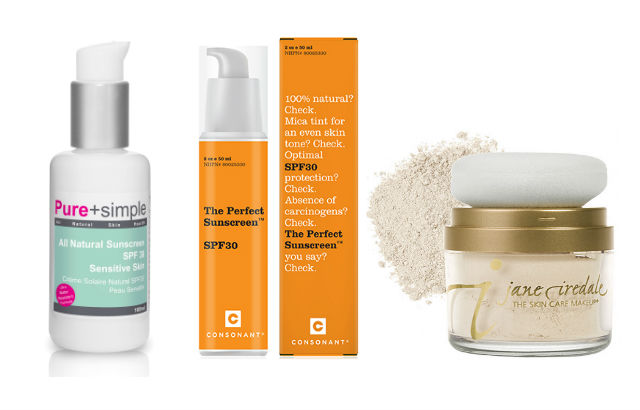 My beauty routine is pretty clean and green but sunscreen is one area where I've stuck to the traditional side. While natural sunscreens, which use zinc and titanium dioxide to create a physical barrier against UV rays, are less likely to irritate skin or cause allergic reactions, they can be thick and greasy to apply, sometimes leaving a white cast behind. Popular chemical sunscreens, which protect by neutralizing and absorbing UV rays into the skin's tissues, are available in an ever evolving, hard-to-resist variety of lightweight, matte formulas but I worry about what I'm rubbing into my skin every day. I decided to put the cap on my chemical sunscreen and found three natural solutions to battle the sun this summer.
Get Sensitive
Sensitive skin sufferers can find relief with Pure + Simple's All Natural SPF 30 Sunscreen – Sensitive Skin. Its 100% mineral formula soothes and balances sensitive skin with organic chamomile essential oil. Chamomile, zinc and coconut oil calm inflammation and irritation while the water-resistant formula leaves a matte finish.
Even It Out
Perfect Sunscreen in SPF 30 by Consonant contains micronized zinc oxide and titanium dioxide to provide quick-drying protection and the formula is loaded with hydrating rice bran oil, grape seed oil and aloe extracts. But the real draw is a subtle mica tint (available in one shade) that evens skin tone and eliminates the white residue found in some natural sunscreen.
Protection To Go
Jane Iredale Powder-Me SPF 30 is a chemical-free powder formula packaged in a convenient jar that includes a sponge-tip applicator. Available is thee shades, this sunscreen is ideal for mid-day applications to protect face, neck and shoulder areas from the sun's rays.