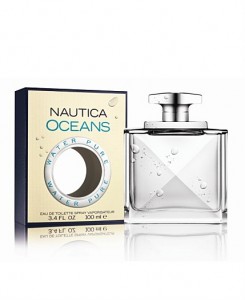 Nautica Oceans launched in 2009 is the name of the newest scent for Nautica, and is interesting not because of it's light fresh Cool Water-like smell.  No, this scent is interesting because it is based in water not alcohol. The scent is completely biodegradable which means that it's good for the environment, and because it's not alcohol based, it won't be drying out your skin where you apply it.
Interestingly, the biodegradable element doesn't mean that the scent won't last on your skin – it will and moreover, it retains its true nature all the way throughout.  It has citrus notes that are slightly sweet and if you're a lover of something fresh, this one is for you.
Oceans is on shelves now.
Interestingly, I don't normally find perfume to be that drying on my skin because I don't use that much of it.  I prefer to even spray it on my clothes, or into my hair.  Some people really don't like the alcohol smell that perfumes sometimes give off, but perfume oils are also a great option if you don't like alcohol.