I think I'm due to write an overview of retinol things that I have tried recently, but lets focus on this new Neostrata Retinol 0.3% Overnight Peel Pads that came out this spring.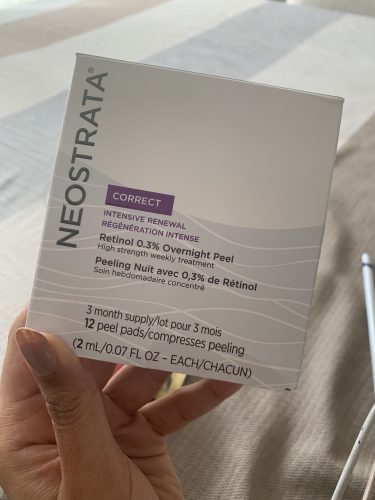 I love having retinol as part of my skincare.  It's definitely not something that I use daily, but I can definitely reach for it a couple of times a week without my skin hating me too much.
There are a few things that I want to share about this Neostrata Retinol Peel – firstly, this is not a peel.  It's not that intense – 0.3% is pretty low on the concentration of retinol that you can get at the drugstore or even at Sephora.  Also, they recommend that you use this just once a week, so you're using a pretty low concentration just once a week which isn't very much.
But!
If you use as directed, you should have little to no irritation because of the retinol and you will still reap the benefits!  The goal is to irritate your skin as little as possible with ingredients that really make a difference, and this is in that category.
Ok!
Next… the base is alcohol, and actually I did not like that. As you start rubbing the peel pad over your skin, you inhale pure alcohol and wow, is that ever off-putting.  Eventually, the alcohol evaporates, and the glycerine is left on your face and actually it's ok.
So I like the dose of retinol but I wish this base wasn't alcohol because if you're only using these once a week, you might forget to hold your breath as you apply.
I usually love the Neostrata brand, and I feel like this is their first foray into the retinol arena, so maybe they will come out with a more elegantly formulated cream very soon.
$80 for 12 peel pads.