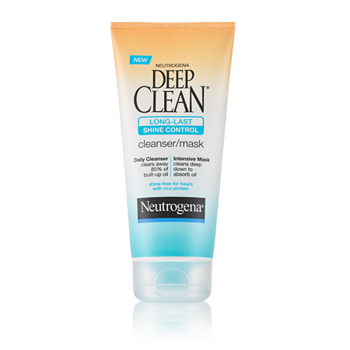 I have to confess, I had this hanging around for a long time before I actually tried it. I have pretty dry skin, and as it is the middle of winter, I've sort of been avoiding anything that says 'shine control' or 'pore refining,' because these products tend to make my skin extremely tight and dry.
I should really get over that thing where I judge products before I actually try them. Neutrogena Deep Clean Long-last Shine Control Cleanser/Mask, while guaranteed to combat oil and control shine, is not drying in the least and gentle enough to use as a morning cleanser, much to my surprize.
The oil absorbing/combating ingredients include salicylic acid, which is pretty average, but the real star ingredient is a patent-pending rice protein, which acts as a 'microsponge' to absorb oil continuously for long lasting, fresh skin. It also claims to instantly absorb 85% of built-up oil that clogs pores, but not over dry skin.
Amazingly, and despite the salicylic acid, it really doesn't over dry skin. It doesn't foam, but is sort of a cross between a gritty cream and a foam consistency. I've mostly been using this as a morning cleanser, and it feels incredibly refreshing which might have something to do with the clean, soapy scent. I also liked that it was mildly gritty because it feels like it's helping to prevent flaky, winter skin.
I didn't find that it did anything extra besides feel really, REALLY clean, but that might be because I have dry skin. It produces this mild, tingly sensation the longer you leave it on, and is supposed to cleanse deep down into pores to really soak up oil. However, as I mentioned above, my skin is really dry so I don't actually have that much oil.
Did I notice a difference in shine? Surprisingly, yes. Again, despite the fact that it is awesomely non-drying, it does indeed help to control shine. I pretty much only have light shine in my t-zone, but after using this it's pretty much gone. It doesn't make my skin look dull and flat like other oil control products either, it really does help to preserve radiance while controlling shine.
Have any oily skinned girls tried this? Let me know what you thought!