Neutrogena has probably the most popular wipes at the drugstore, and I turn to them because they're effective.  I'll admit that I don't use them to take off all of my makeup.  A bit of a pre-cleanse is essential, but I do use them to get rid of any residue and to really get the mascara off from under my eyes.  It just tends to smear all over when I taking makeup off.  They're also great to use when you're trying to preserve your blown out hair – my hair is super curly, and the little bit of water I might get on my face while I wash it is effectively enough to cause a kink or wave of hair right at the hairline.  So I turn to these wipes instead.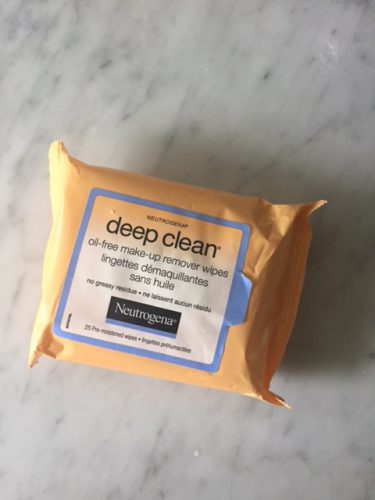 Now, I'm using the Deep Clean Oil-Free Make-Up Remover Wipes, which have a touch of mint in them which feel refreshing as the cleansing solution dries on my skin.  The finish is a little lighter and more watery than most other makeup wipes I've tried, and I can see how these wipes would be better for those with problematic skin.  They get off everything and I simply follow up with my regular skincare.
Available at drugstores and mass merchandisers.