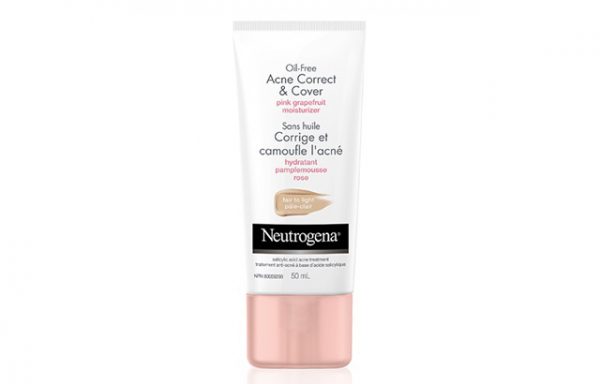 Neutrogena's Oil Free Acne Correct and Cover Pink Grapefruit Moisturizer is made for providing light coverage for acne-prone skin.  It's oil-free and made for people who are worried about clogging more pores.  It's great for evening out skin but because it's water-based, it feels like nothing on.  It has a refreshing feel when applied and the fresh smell of grapefruit is great for waking up the sense.
My only problem with this moisturizer is that it's not very long before oil starts seeping through it.  It has a satin matte finish at first, but acne-prone skin is usually oily and this moisturizer doesn't do anything to really combat oil.
There is a small amount of salicylic acid in this, which would be great for those who are dealing with acne, but to see real results, you'll have to pair this with stronger products either underneath or at night time.  The directions do say to apply this moisturizer 1-3 times a day, but if you're using it like makeup – meaning you're applying powder, blush, etc. on top – then you will likely not reapply because this will mess all that up.
This is a great light tinted moisturizer for people who want something exceptionally light and easy to wear – definitely great for a daytime or weekend look.
Find it at drugstores now.