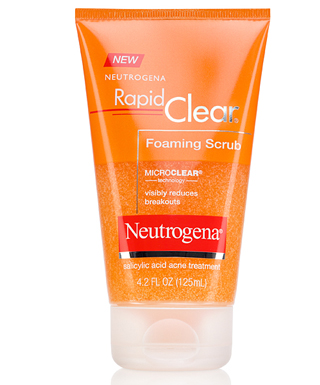 A foaming scrub is a great way to clarify clogged pores and get rid of makeup and oil all in one shot.  Neutrogena's Rapid Clear Foaming Scrub is said to break down oil in pores while gently exfoliating with microbeads. 
I found the scrub to be effective yet really gentle.  Despite the fact that it's foaming, it won't leave your skin dryed out, and the beads aren't too small so they won't get in your eyes or be difficult to rinse off.
I like the scrub so much that I can't help but use it in the shower on the back of my arms as well as my face. 
This is a great drugstore product – for about $10 it's a fantastic upgrade from a cleanser that doesn't do the exfoliating that this does.