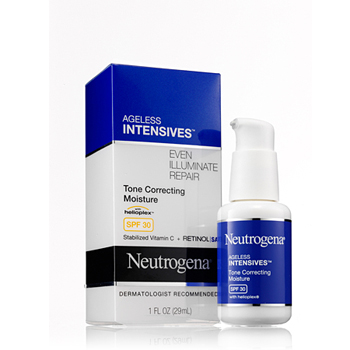 So many of you wanted to know where you could get the last Neutrogena moisturizer I talked about and were disappointed to learn that it's not available at your local drugstore.
Well fear not – I have a substitute for you: it's Neutrogena's Ageless Intensives Tone Correcting Moisturizer with SPF 30.
For all intents and purposes, this feels the same as the Dermatologics retinol moisturizer. Yes, it has a lower SPF but it still has Retinol and Vitamin C in it so when I use it I notice better skin tone overall, and a slight lightening of scarring.
It comes in a very similar ceramic bottle with a pump, and it provides light moisturization and sun protection during the day. It as easy to apply foundation on top of this, and everything set to a nice matte texture.
You should be able to find this, as well as other Neutrogena Ageless Intensives products at your local drugstore.