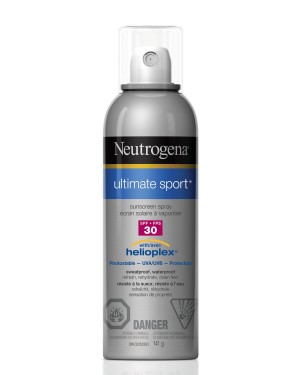 Booty Camp twice a week requires me to bone up on sunscreen so that I don't burn to a crisp while I'm running around.  To that end, I decided to try Neutrogena Ultimate Sport Sunscreen, and I have to report that I did not love it.
What I didn't like most is that the sunscreen has a greasy texture when  you apply it on your skin.  It's slightly sticky and very shiny and it draws attention to the fact that you're wearing sunscreen.
Secondly, when you apply to much, the sunscreen has a tendency to ball up and pretty much comes off your skin if you try to rub it in.  Now, I understand that you should apply just a light layer and leave it at that, but I'm finding that I can't always be sure whether the sunscreen is on enough or not, so I tend to apply a lot.  I feel that they should have realized that this might happen when they made the sunscreen and they should have made it easier to use and with a better feel after application.
Even though I didn't like this sunscreen and probably won't use it again, it does provide broad spectrum protection and has photostable ingredients, so it did provide good sun protection.  I did not get burned or even tanned in the hour that I spent outside.
You can find Neutrogena Ultimate Sport sunscreen in a variety of formulas and spf's at your local drugstore.  I tried the spray in the spf 30 version.