I've never been so undecided about a sunscreen – I either love them or hate them, but this one really left me on the fence.
It's not that there's anything wrong with the Neutrogena Ultra Sheer Body Mist Sunscreen.  I have it in SPF 30 which is a perfectly adequate amount of protection for the daily.  I took this to the cottage with me – this picture was taken on the dock.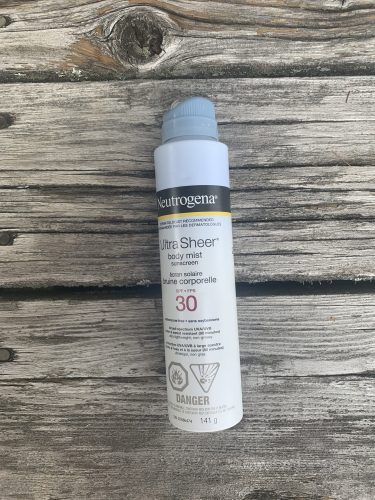 I love a spray sunscreen because they are so easy to reapply.  You can spray spray spray as much as you want and it takes just minutes.  Moreover the formula is like water, or oil, on your skin so it never feels heavy.  Neutrogena does recommend rubbing in the sunscreen after you spray it and when you do that, you can make sure that it goes everywhere, so I did that.
My only issue with the Ultra Sheer Body Mist is that I have no idea where I'm applying it.  And if it's windy, the spray seems to be going everywhere.  So I apply and apply and hope that I'm doing a good job.  I feel like creams give me more control.
I will say that I found this super handy for quickly spraying on my feet, because I usually neglect them, and great for spraying on my kids.
This one bottle lasted me about a weekend.
Oh, and the can sprays upside down so that was handy.
$12.40 on Amazon.