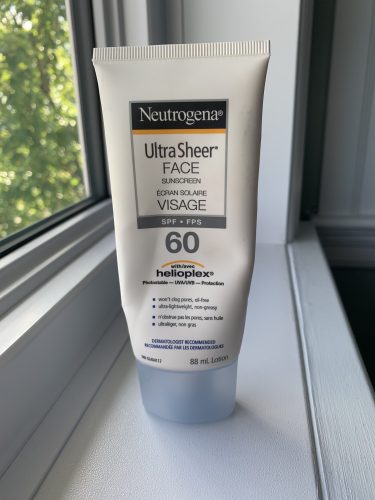 You can see from the picture that I've used this sunscreen a lot – in fact, this bottle is almost done.  This Neutrogena Ultra Sheer Face sunscreen in SPF 60 sunscreen gives you really excellent sun protection – but it's very thick and creamy so be prepared to really have it on your skin.  You might not feel like wearing this one everyday – they say that it's non-greasy, but I wouldn't call it matte.  It doesn't look greasy, but it definitely feels very creamy.  I don't love it… but I don't hate it either!  I reach for this one when I know I'm going to have a long day in the sun!
It's a very long-wearing sunscreen that doesn't disappear easily – it also comes in an SPF 45, and SPF 100+ version (or I've seen it as SPF 110), and if you want something a bit lighter but that still wears well, then the SPF 30 is for you.  If you are more no-nonsense about sunscreen, then the SPF 60 or 110 is better.
You can get it online for $13.97 – in fact, this is a very easy to find sunscreen and you can often find it on sale!