Last week, I told you about Neutrogena's Rapid Tone Repair serum which is a skin illuminator, mattifier, and primer in addition to making your skin tone more even.
Well, the thing is that the serum is so matte that in extreme weather conditions it can be a little drying.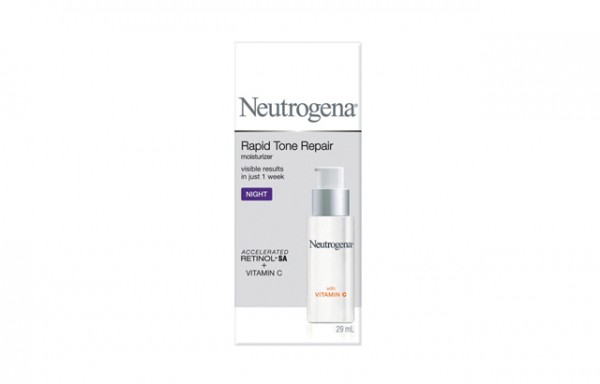 But, I've figured out what works really well with this serum: just one pump of the Rapid Tone Repair Moisturizer applied on top of the serum.  You still get some of the mattifying of the serum, but you get lots of hydration from the moisturizer and more of the amazing tone repairing ingredients such as Retinol and Vitamin C.  I use the night cream, and skip it during the day, but if you're interested they do have a daytime version with SPF 30 – so that if you've lightened some freckles and dark spots, you can prevent them from coming back.
About $30 at drugstores.  Don't forget to apply it to your neck and back of your hands too.
Annnd, yes, I've reviewed this line before and have used both the night and day moisturizer in tandem and they work great – I just came back to the night moisturizer now and couldn't be happier with it.  This line is  a real drugstore find.