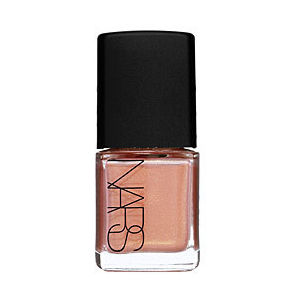 If you haven't tried Nars nail polish in the past, let me tell you that it was not a pleasure to wear.  It definitely need a top coat and a base coat to have any kind of staying power and even then, more often than not, it would end up majorly chipping before the week was over.
But this season, Nars improved their nail polish, and my, what an improvement.  In fact, I'm going to go so far as to say that this is not just an improvement but more of a whole new polish in the same colours as before.
I tried the polish for the past 2 weeks and it has stayed up to major kitchen duty without nary a chip in sight.
You can get Nars products at The Bay, Sephora, and Holt Renfrew, and yes, they now have one of the best polishes on the market.  Of course, they are free of all "bad" ingredients (formaldehyde, etc.) (but why would they make a new formula with these ingredients?).
P.S. the new Nars shade for the summer is Bohemia and it is a pretty shimmery see-through golden-pink that layers well over other polishes.