If you've got acne-prone skin (and I'm going through a bout of it myself these days), then you may want to check out the latest from bareMinerals. Their Blemish Rescue line has several products that claim to help acne-prone skin get clear, and the powder formulations are a help if regular liquid foundation ingredients (such as oils or silicones) can be a problem for your skin.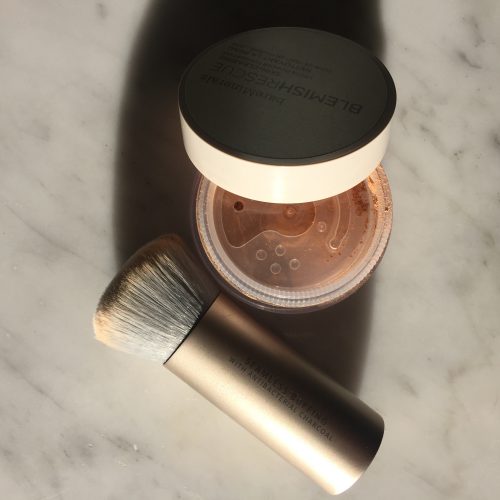 The Blemish Rescue Skin -Clearing Loose Powder Foundation is part of the line and offers coverage and treatment in one step.  A medium/full coverage foundation this is not.  In fact, it's actually more of a sheer powder that has the ability to even out skin without really covering anything up.  That means that if you suffer from really bad acne (redness and inflammation included) then this is not going to be the product that will cover any of that up.
On the plus side, because it's so sheer, it's only available in 12 shades and there's a good chance that more than one will work for your skin tone.  I got 2.5 which is a neutral medium. Not only is it too dark, but it's also not the right undertone for my skin. That being said, when I applied it with the charcoal-infused bareMinerals buffing brush, it blended into my skin and looked totally natural.  
The finish is slightly shiny, but mostly matte and imperceptible on the skin.  Your skin looks better, but without being all covered up. If you are used to traditional foundation, this will likely not be enough for you.  But it works great as a setting powder so that your regular foundation lasts longer. 
I've been applying this with the Seamless Buffing Brush with Antibacterial Charcoal.  The buffing brush is amazing for applying powder foundation.  It actually leaves the foundation on your skin instead of swallowing it, thanks to the tightly packed bristles.  I've used this with a variety of powders and it's amazing and picking up product and then depositing it on your skin.  Absolutely, this is one of the best buffing brushes I've tried because of how dense it is. I've even used it with the MAC Sheer Mystery Powder and it worked great.   Not only does the brush have charcoal on it, but the bristles also have silver on them which is naturally antibacterial.  The coating doesn't wash off when you clean your brush, so you'll continue to reap the antibacterial benefits of the brush.
$28 for the brush, and $29 for the foundation.