Under-eye concealers come with their own set of problems: they need to colour correct the darkness that's typically under the eyes, but still colour match to the rest of your foundation or skin.  They need to be creamy enough to not tug when applied, but then they need to set and not get into any creases.  They can't be cakey, but they need to have enough coverage.
Benefit's original Boi-ing Concealer was said to be "industrial strength" and ticked all the boxes.  It covered, but was creamy when tapped in, and it didn't crease.  The colour selection, while slim at just three shades, was true to natural skin tones typically under the eyes.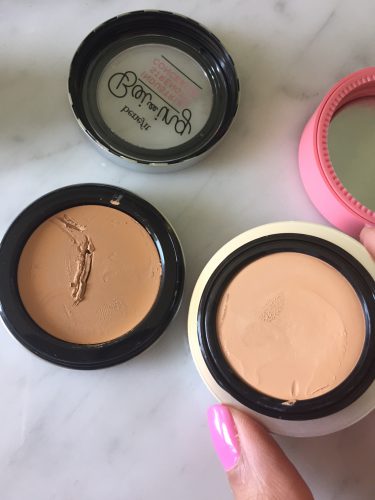 Now, there's Boi-ing Airbrush Concealer which is offered in the same three colours, but offers less coverage and a more creamy consistency.  It almost feels as if this concealer has silicone in it to give it that slip, so it applies nicely but also sets without being greasy.
You can see in my image – yes, one of my kids dug their nails into the original one – but you can see how that one is more thick and stiff.  I have both the concealers in shade #3, and I had to admit that for my NC 42 skin, they're a little dark for using under the eye, but great for the cheeks.  You can also see that the original seems to be a bit darker than the new airbrush concealer, but it only looks that way because it's so much more pigmented.
These are $27 each, and you can find them, and the rest of the Benefit concealer family online or at Benefit counters!