I love a foundation that has SPF in it, because it lets me go easy on the sunscreen, especially on days that are cloudy.  @BobbiBrown's new Long-Wear Weightless Foundation has SPF 15 in it which is great for added daily sun protection on your skin, plus it is long-wearing so hopefully, you're getting sun protection all day long.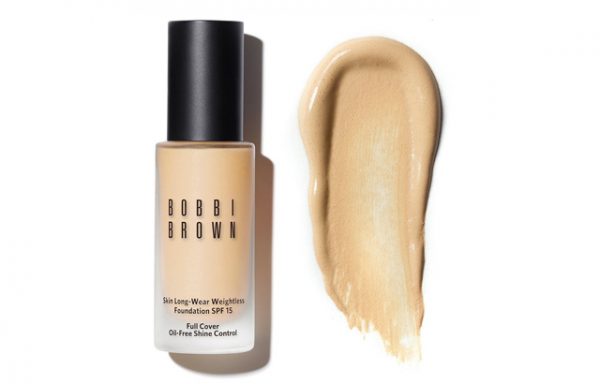 Yes, I guess that's a confession that I don't always wear sunscreen on cloudy days, and just reach for a foundation that has SPF in it.
This foundation not only has SPF in it, but it's also a beautiful gel formula that's mostly matte without being powdery.  I think that it just looks like regular skin – satiny but not greasy or shiny. This being a long-wear product, it does set on your skin pretty quickly, but there's still lots of time to really work with it.  I've tried using my fingers to apply it, a brush, and my Beauty Blender and they all work. My fingers and the Beauty Blender really are the best because they give the most natural coverage.
The claims are that this lasts through humidity and sweat.  I can vouch for humidity but it didn't last through an Orange Theory workout which is okay.  It was intense, and I was constantly wiping the sweat off my face, but that's to be expected.
I will say that it mostly lasts through a 12 hour day, which is rare for my oily skin.
And what keeps me coming back to Bobbi Brown foundations are the colours available.  There's lots of them in skin-true shades. The pigments in this foundation are in a gel base, so they come through clean and true with no oxidizing throughout the day.  I got 4.5 Warm Natural, which is usually the right shade for me, but in this one I found that it was a touch dark, and I could go down to 4 Natural instead. 
I love the colour, and I keep reaching for this foundation. It has a thick consistency, but it's still easy to blend and doesn't look mask-like. You can wear a little or a lot, and because the colour matches my skin so closely, I can even just use it for spot treatments.
$55.