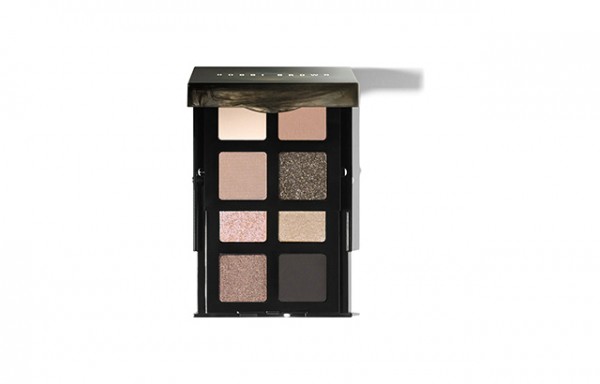 It's no secret that I'm a fan of the smoky eye – I think it just works for my face, and it's my go-to special-occasion makeup or even the make-up that instantly makes me feel more put together.  I do a smoky eye to go out, or when I'm coming off a cold.  It's my makeup equivalent of a blow-out.
Of course, Bobbi Brown's Smokey Nudes collection was calling my name – dare I say – it might even be my favourite collection for fall so far.
What makes this palette great is that it has 8 shadows in grey tones so that you can do either a subtle or intense smoky eye.  The palette also includes a lighter and darker glitter shadow so you can have fun with the smoky look that you do.
There are also some matte shades in this palette which is awesome.  Cream and Naked are the two lightest colours and make excellent bases.  Woodrose is great as a darker crease colour that's still suitable for daytime.  Smoked is the darkest matte shadow (in the bottom right hand corner) and is perfect for a dramatic crease or as a liner.  There are also two metallic shades (one for day and one for night), as well as the sparkle shadows I mentioned before. This palette is so versatile because of the mix of light and dark shades.
Here is the full list of shades in the palette:
Watercolor Pink Sparkle Eye Shadow
Cream Eye Shadow
Nude Beach Metallic Eye Shadow
Naked Eye Shadow
Smokey Brown Metallic Eye Shadow
Woodrose Eye Shadow
Smoked Eye Shadow
Silver Brown Sparkle Eye Shadow
Believe it or not, the best part of this collection is not the palette – it's the Creamy Matte Lipcolours in 4 Nude shades.
Nothing goes better with a smokey eye than a nude lip, and this collection has shades that are the perfect mix of beige and pink: just like your own lip colour.  I got Soft Nude and it is EXACTLY the same shade as my lips – I love it!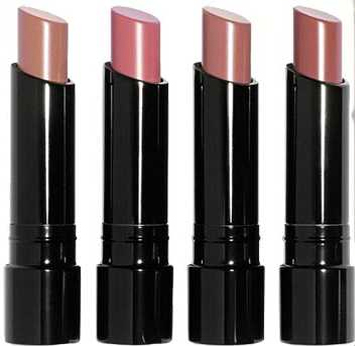 The colours are:
Pink Nude
Warm Nude
Soft Nude
Nude
Pick this collection up at Bobbi Brown counters now.
And in case you're interested in seeing the Smokey Nude Palette up close, check out my August Favourites video.