CeraVe's new line of products promises to help you get rid of wrinkles.  The Day Cream with SPF 30, the Retinol Serum, and the Night Cream are made with retinol and ceramides to help exfoliate skin and moisturize.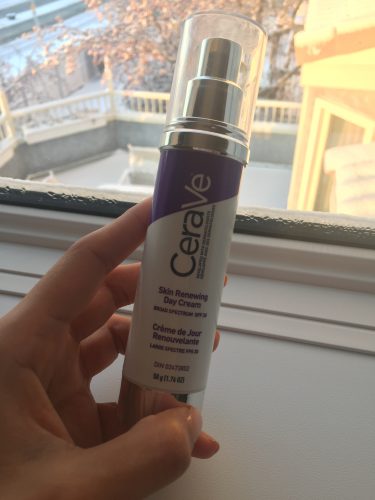 My favourite of the line is the Skin Renewing Day Cream with SPF 30.  I'm always on the hunt for a good SPF that doesn't leave a white residue on my skin and this is almost it.  It isn't completely clear, but it's enough so that I don't see it on my skin and I can put makeup on top of it easily.  The Day Cream has broad spectrum SPF protection which means that it protects against UVA and UVB rays.  I also love that this is packaged in an airless pump.  I feel like it means that I get every little bit out when I'm using it without compromising the quality of the product inside.
The day cream has 1% encapsulated Retinol, so it's slow to release and apparently more gentle on your skin.  After using this for a couple of weeks, I didn't notice my skin reacting to it the way it normally reacts to retinol.  There's no dryness or crazy peeling so I think there's some truth to the fact that encapsulated retinol is more gentle on your skin.  Still, they're not replacing my usual retinol serum that I'm using at night, but I like that I can use them with  my serum on underneath, and the two won't interfere with each other.
The entire collection is available at drugstores now – $23.99 to $24.99.