This is going to be the year that I as many new self-tanners that I possibly can. I remember when the new thing in self-tanners was one that was combined with a moisturizer so that you could develop a tan gradually instead of working with messy sprays, or mousses.
Thankfully, you can now get a quick tan with a moisturizing formula!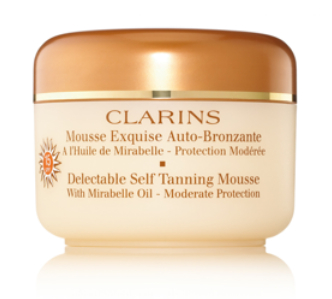 Clarins's new tanning mousse, is a whipped cream that is so well formulated, that you'll totally forget the self-tanners of yore.
The cream is ultra light so it just glides on your skin, but it's moisturizing because it contains Mirabelle oil in it. Further to that, the cream smells great (peach and orange seem to be the notes), and it even has SPF 15 in it so that you can wear it during the day and be out and about.
But that's not all: this cream develops colour so quickly. Within a couple of hours, you are going to be a nice golden bronze colour thanks to this cream.
I even used this on my face and saw no clogged pores.
Self-Tanning Tip: It's better to apply self-tanner on your skin at night, so that it has time to develop and then you can accurately pick out your foundation the next morning. And if you're planning on using self-tanner, doing it all over so that you get even colour is really the way to go, although it is hard and you have to be careful to make sure that the colour is even everywhere that you've applied it.
This retails for $42 wherever Clarins products are sold.  I found the jar to be quite generous and a little bit goes a long way with this cream.