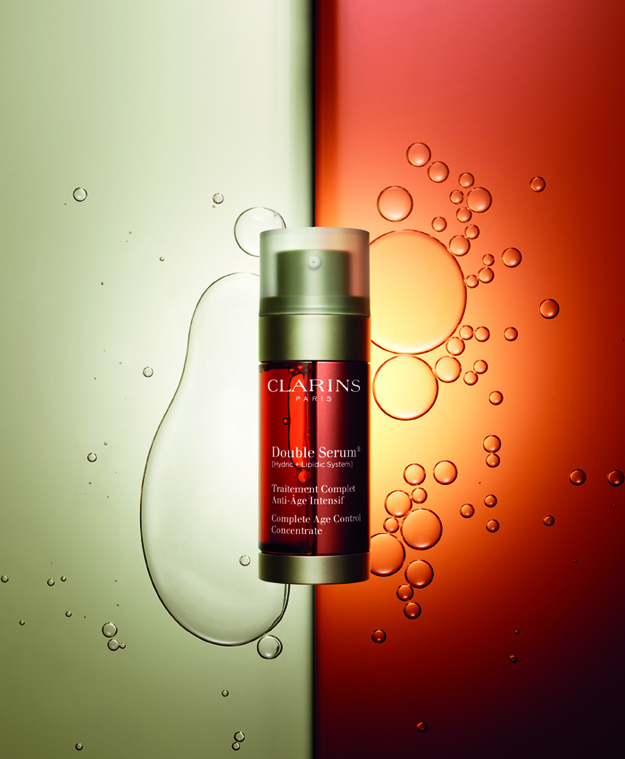 This serum will change your life – it will change what you think of serums and of anti-aging products.
Why?
Because its unique formulation means that this is a serum that works like no other.
Clarins' Double Serum is aptly named. The bottle houses two chambers: one that contains oil-based ingredients, and the other contains water-based ingredients. Instead of using emulsifiers to combine the two types of ingredients, the scientists at Clarins just decided to house them separately. When you pump the serum into your hand, both sides release serum and you mix the oil and water ingredients yourself and apply them on your face. There's nothing extra in the serum; but there's also nothing missing. The serum has everything it needs to have to provide your skin with hydration and effective anti-aging ingredients.
And now to its effects.
Immediately upon applying the serum, you'll see more radiant, glowing, and even-toned skin. Fine lines will seem to virtually disappear. Even if you thought you didn't need an anti-aging serum, you'll be surprised at what a difference this one makes.
If you have oily skin, chances are that the lipids in the serum will give you enough moisture, but if not, you can apply face cream on top. Even makeup goes on smoothly and evenly after applying the serum, and the effects are long-lasting.
Like all high-end serums, this one smells great: roses are definitely in the fragrance, and the lasting scent is fresh and feminine.