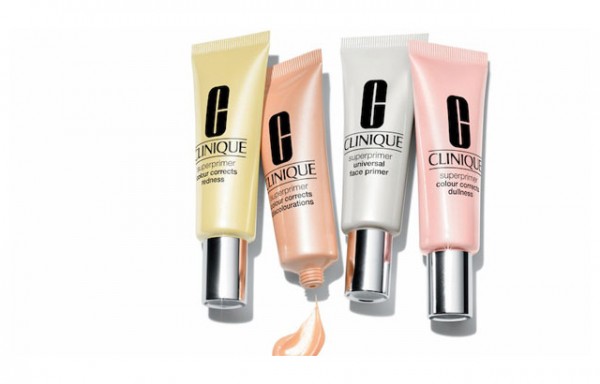 You haven't read many primer reviews on this blog because to tell you the truth I'm not a huge fan of primers.  The majority of them are silicone-heavy which clogs my pores, and I have this belief that foundation should last well into the day on its own, with maybe a slight dusting of powder on top, more to help my blush and bronzer blend better.
But when a product has "super" in front of it… I guess I just have to try it.
What made me more interested in these primers is that they come in different colours to target different skin tone problems: there's a primer to counteract redness in skin, one to make sallow skin brighter, and another to deal with the blue/green that can be seen in under eye circles.  There's also an clear Universal Face Primer.
Colour-correcting primers are not at all new.  Lise Watier has had a colour-correcting concealer wheel on the market for a long time.  I remember walking into a friend doing her makeup maybe ten years ago, and seeing her face covered with green lotion to counteract the natural rosiness her skin had.  She would then layer foundation on top, and had I not already seen her getting ready, I would have never known that her skin was red at all.  Using this type of primer is a common makeup artist trick: if you can counteract any kind of colour issues that your skin is having, it's easier to make foundation look like natural skin.  Most foundation isn't meant to cover up colour issues, it's simply made to even out your skin.  You'll find a colour-corrector especially useful if you use a sheer foundation as it is because all of a sudden you might not need to take care of colour issues.  If you use a colour-corrector, you might even find that you can down-grade the coverage you need in a foundation because all of a sudden there's not that much to cover anymore.
You can also use the primer just in the spots that you need such as the T-zone so that it can absorb oil.  You can use the colour-correcting primer just in areas that need the correcting, although these are so sheer in terms of colour that sometimes it might be easier to use them all over the face.
Anyway, I checked out Clinique Superprimer Universal Face Primer and Colour Corrects Dullness in Deeper Skins.  Both the primers rubbed into my skin without leaving any noticeable colour behind, and I would say that it's going to fairly easy for you to see what your skin needs in order to pick a primer that suits your skin.
I was happy to see that the Universal Face Primer actually doesn't have much of a silicone-like feel and just feels like a thick moisturizer.  It blends in smoothly and immediately makes pores disappear and seems to fill fine lines.  Skin looks brighter too!  It's easier to blend foundation on top of a primer and I did find that the brightness that the primer added shone through the foundation.  Without any additional setting powder, my foundation, which does tend to melt rather easily, stayed put throughout a busy day and was more matte than usual.  A couple of dry patches seemed to be highlighted, but the next time I'll use a moisturizer just on those areas before I apply this primer.
The colour-correcting primers have a higher level of silicone in them and so feel quite dry going on. Because of the silicone, the primers are excellent at filling in pores and making skin appear more smooth and even.  These feel like a typical primer but are tinted.  The one I tried had very little pigment in it and absolutely no shimmer which was fine with me.  It did tend to look a tiny bit orange, and I can see how that would brighten up a deeper skin tone, however it might be a touch too sheer to really make a huge difference.  If you have skin that suffers from dullness, I would suggest using a highlighter at the highest parts of your face (cheekbones, forehead) and using brighter colours on the lips and cheeks.
The Superprimers are now available at the Clinique counter for $29 each.