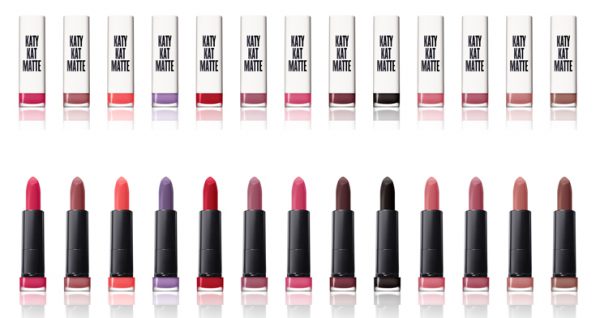 I love a good matte lipstick. The staying power is usually better than your average lippie.
Now, matte lipsticks aren't the easiest to wear. Because of their inherently dry texture, they end up being drying on the lips, and will accentuate any already dry spots. Needless to say, although the Covergirl Katy Kat matte lipsticks are more forgiving than your average matte, they still look best on lips that are already hydrated.
The formula is specially created by Covergirl for these lipsticks, so that they're not a dry matte but more of a satin matte texture. That means that some of the colours have a bit of shine to them, which makes them look better on your lips. You won't see every single fine line accentuated thanks to the bit of moisture these have in them. Though they're mostly matte, the texture and feel has a bit of slip so that they're moisturizing and comfortable to wear. It also means that the colour wears off on coffee cups and the like, but reapplication is so much easier than with a traditional matte lipstick.
Truly, Covergirl has hit it out of the park with these lipsticks and they are so fun.
Of course, the colours offered are to die, including a black colour – which, I did not try.
The colours I have are mostly pretty basic pinks. They are:
Sphynx (a nude pink so pretty and easy to wear that I keep it in my purse)
Pink Paws (light pink but with too much white pigment to really look good on my lips. It is really pretty on fair skin tones)
Catoure (brownish pink that reminds me of Kylie Jenner's lip choices)
Kitty Purry (lilac pink).
All the colours were easy to wear with more of a moisturized matte finish. They looked slightly glossy when I swatched them on my hand, but were more matte when I put them on my lips. The colours glide on easily have have good pigmentation.
These lipsticks also have a lovely vanilla cupcake scent that you're either going to love or hate… I love it and think it smells yummy without being cloying.
They are on par with most drugstore lipsticks, and give my Rimmel Kate Moss Matte lippies a run for their money! I actually loved Sphynx so much that I considered buying a backup.
Pick them up at drugstores.