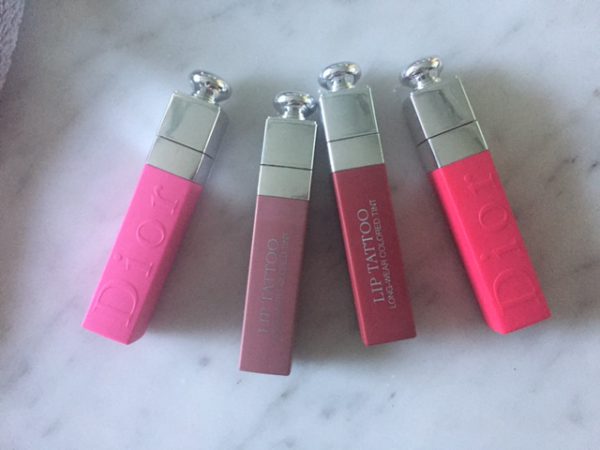 I love new technology in makeup, and the latest to come out of Dior labs is the new Dior Addict Lip Tattoo.  These are actually lip stains that are gel based, and work well on lips and cheeks.
Because they're lip stains, they are highly pigmented but slightly translucent so they work with the colour of your lips.  This can be a good or bad thing: my lips are already quite pigmented so I don't like that they work with the natural tone because I need to layer these to have them look even.
The four colours I have are:
Natural Pink, Natural Berry, Natural Rosewood, and Natural Cherry.
I really loved Natural Rosewood and Natural Berry.  They are darker colours than what I'm used to, but they really look like stains on my lips – like my lipstick has worn off, or like I ate cherries and my lips are now stained.  I love that look, and the Lip Tattoos make that easy to accomplish.
Dior says that these can last up to 10 hours, but I'd say that they last until you eat something very greasy.  If that's your breakfast, then you're done, but if that happens to be lunch, then these are going to last until you eat that.  They definitely last through a few cups of coffee without coming off.
And because these are gel formulas, they're weightless on the lips once they dry.  The colour is inky, watery, with a slightly luminous finish, and in more colours than typical lip stains.  The formula is a mix of water and oil – after you apply, the water evaporates leaving behind just a bit of oil and pigment on the skin.  This means that these are a bit more moisturizing than your typical lip stain, but not overly so.  Dry lips can wear these, they're more forgiving than a matte lipstick, but they won't be able to really moisturize the lips.
My favourite colour is the Natural Rosewood which is actually very natural looking as a beige pink.  Even though it's the lightest colour in the collection, it's still dark enough to show up on my lips and works well with a dark, smoky eye.
The best way to apply these is with the applicator, starting in the centre of your lips and moving outwards.  After one coat, dap with your finger tips to set the colour, or press your lips together. At that point you can apply another layer, or leave as is.  I prefer not to layer more product on top because it makes it more difficult to control the finish. If you want to use these as cheek tints, which works well as a coordinating blush, just use the applicator to dap a bit on to the cheek, and then tap quickly to blend.  If you blend with a swiping motion, you might get a streaky finish.  Top with powder to have them last all day.
These are on Dior counters now for $36.