I InstaReviewed this foundation, but it definitely deserves a review of its own, because it's the one I've been using for the past couple of weeks, and it's the latest in the Double Wear family, which is widely loved is a holy grail for so many people.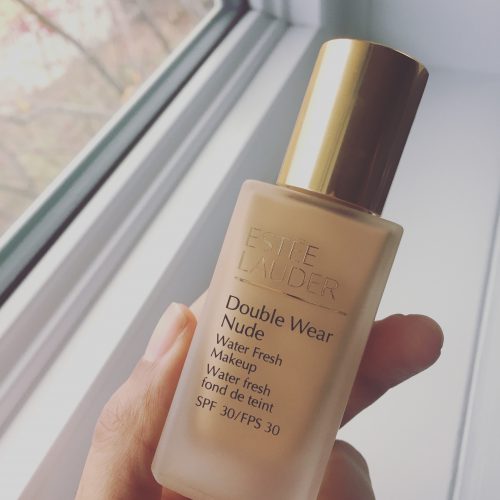 First things first: the foundation is true to its name: super light and watery but also lasts all day.  The SPF 30 is what makes it worth turning to day after day.  
The foundation is light coverage – but you can layer it on to get more coverage.  I find that it's so light, though, that sometimes it's just easier to dip a small brush directly into the bottle and smooth it on.  I've tried applying this with my fingers but I'm finding more and more that this technique leaves a lot of foundation on my hands which makes the whole process so messy.  
So, I dab it on with a concealer brush, spread it with that brush as much as I can, and then use a foundation brush to spread the rest and make it more even.  This leaves me with a flawless finish.  The colors available are awesome: lots of options for warm skin tones, and because the coverage is so light, you might find that more than one colour suits you.  I'm going between a 3W1 and a 4W1… I could go either way, but I'm finding that mixing the two is perfect… and in the dead of the winter, I'll definitely be a 3W1.  
The finish is dewy and glowy – kind of shiny, to be honest – and I set it with powder to make the shine go away and have the foundation last just a little bit longer.
Because of its lasting power, but natural look, and the colour match, this is my favourite foundation right now and the fact that it has SPF 30 in it, means that I can cut a step out of my getting ready routine in the morning – especially since most of the time, I'm getting ready when it's still dark outside!
There are 9 colours available in all – mostly because it's such light coverage that one shade can match many skin tones.  If you're finding that you want more coverage, then you can try the original Double Wear formula.
I was a little annoyed that the bottle doesn't come with a pump – I actually think a dropper system would work really well with this foundation because it's so fluid – but Estee Lauder does sell a pump separately ($13) if that's what you want.
Also, last year Double Wear came in the form of a cushion stick and had more of a radiant finish and it was one of my favourite foundations OF ALL TIME, and the proof is that I finished it – you can read the review here.
$48 at Estee Lauder counters or EsteeLauder.ca.