You know you've found your favourite foundation when you don't even want to turn to anything else, and you decide to clear out your makeup stash so that there are no other foundations on the horizon. That's how I feel about Vichy's new Teint Ideal Fluid Foundation which is part of Vichy's new line of coverage products.  The collection includes a Fluid Foundation for combination or oily skin, a Cream foundation for dry skin, a Powder Foundation available in three colours, a highlighter, a concealer, and a bronzer.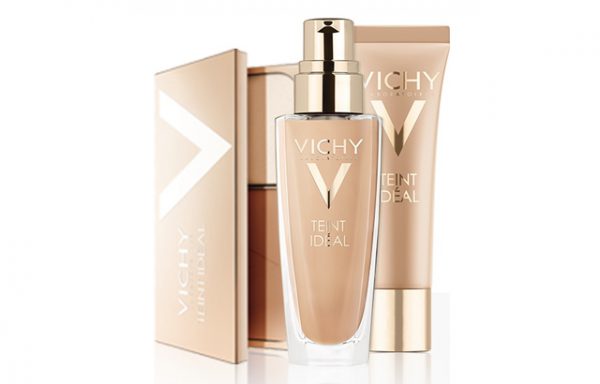 The Fluid Foundation is what I most wanted to try and what I've liked the best so far.  It's available in five colours (I'm number 45, honey) and offers 14 hour wear with SPF 20.  I have to say that it really does last for 14 hours, because if I use a wipe at the end of the day, I can see the foundation has come off on it.  The coverage is light and this foundation definitely looks dewy on the skin thanks to a certain amount of light-reflecting particles in it.  Yes, I'm going to call them light-reflecting instead of shimmer because shimmer would be too pronounced.  This foundation just reflects light to make your skin seem super healthy without making it look oily.  Unlike most long-wear foundations, this looks natural and feels comfortable which is key.  You don't know you're wearing it until you see your radiant self in the mirror.
Aside from the long-wear of it, my other favourite part is that it is so radiant but also matte to the touch.  In no way does this feel dewy.  It goes on powdery matte, but looks like moisturized skin.  It's quite a feat and it really works.  No highlighter needed for me, because of how amazing this actually looks.
There's also the a thicker cream version of this foundation that is for oily skin – it's more moisturizing but still sticks to the skin and looks natural.  I like the look of both foundations, but the Fluid foundation is easier to blend into my face in the mornings.  I use the cream only when I'm really concerned about dry skin or on the weekends.
The powder version of the foundation is similarly infused with light-reflecting particles so that it doesn't look dull or obviously powdery.
There aren't lots of colours available in the foundation, but the colours are quite forgiving because they let the skin shine through.  Check it out at Shoppers Drug Mart.