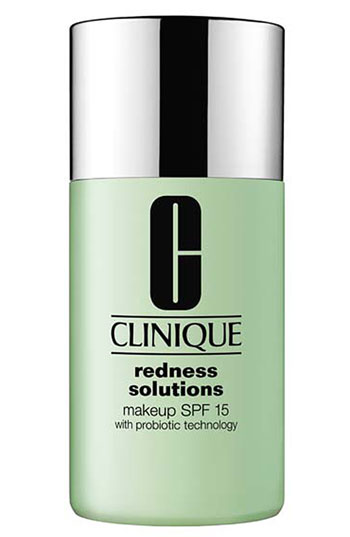 I have to preface this by telling you that I don't have red skin, so I'm not sure that I'm the best person to review this foundation.  My skin is pretty consistently not red and I only have redness around my eyes and I can cover that up quite easily.
Also note that Clinique's Redness Solutions Makeup is only available in fair and moderately fair colours, so they realize that it's the fair skin tones that have problems with redness.
The makeup is water-based and extremely light so that it doesn't cause skin to be irritated by various ingredients.  I found the finish to be quite sheer (which I liked) and it had almost a matte finish.
I used a makeup brush to apply this because it's so watery that I found finger application to pretty much wipe the makeup off.  I love that they have added SPF to this so that you can skip it in your moisturizer if you want, and you're protected as long as you're wearing this.  I also like that it has antioxidants and it functions very much like a light moisturizer.
All in all, I would definitely recommend this to anyone that has sensitive skin, whether you're prone to redness or not.  Use it with other Clinique Redness Solutions products for best results.