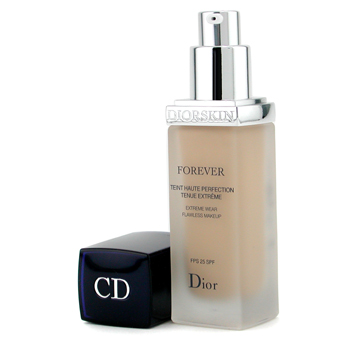 I love foundation that is supposed to last the whole day because I have oily skin and a regular foundation often just does not cut it!  So, I was excited to try Dior's Forever Extreme Wear Flawless Makeup, because not only is it supposed to last the whole day, but it's also supposed to look like your regular skin.
The foundation itself goes on flawlessly.  It's not stickly at all, like some long-wearing foundations can be, and I found that it even dried to a slightly powdery finish which I kind of like.  It's so easy to apply that you can skip the foundation brush and just use your fingertips.
Extreme Wear is also a light to medium coverage foundation which is not the norm for these kinds.  That means that yes, it will last the whole day, and no, it won't make you looked like a caked up mess because it lets your skin show through.  Your skin looks flawless for at least 8 hours, though if you have oily skin or live in a humid climate, it might be hard to pull off any more than that.  I also found that I didn't need to powder this foundation to have it set, and that's a definite bonus.
My only beef is that Dior foundation don't come in enough shades for there to be a perfect one for everyone.  In the winter, I can get away with wearing 031 but if I get a tan, there's nothing that's just slightly darker.
If you can find the perfect colour match, then this should be a foundation that you definitely check out.
Pick it up at your local Dior counter for about $50.