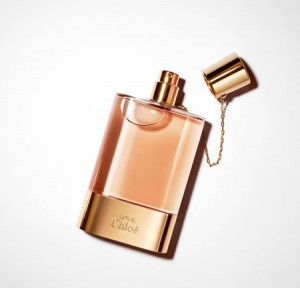 I, more than anyone else, have been under the charm of Chloe for pretty much my whole life.  Of course, there was the scent of the perfume as my mom wore it in the '80s but over the past 2 years I have pretty much adored the new scent and its stronger flankers.
And now we have Love, Chloe which is a different scent to the actual Chloe. Love has the official notes of: orange blossom, pink pepper, iris absolute, lilac, hyacinth, wisteria blossom, heliotropine, powdery musks, talc and rice powder.
I have to say that right at the start I could smell the lovely orange blossom and although I usually run far far away from pink pepper, I could hardly smell it here and that's a good thing.
The sweet notes give way to powdery accords and the fragrance takes on a breathy airy quality.  It's actually quite lovely, but the orange blossom really never leaves me.  The peony and lilac notes come through but the scent is never really a full-fledged floral like I expected it to be.
I liked this scent, but I didn't love it like the regular Chloe, and the problem I had was that this isn't that different than the other.  It's sweeter, and not overly rosy, but when I smell it, I can still think Chloe and for that reason, I didn't find it to be overly intriguing.
The scent is on counters everywhere.