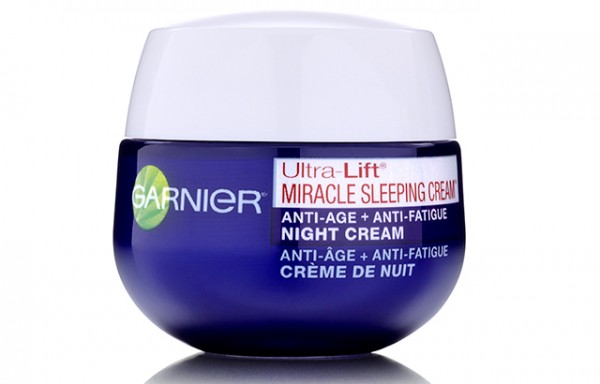 Ok, sleeping masks are the new thing in beauty.  Basically they're rich heavy creams that work to hydrate and plump up your skin while you're sleeping.  What all these masks seem to have in common is that they do tend to sit on your skin and penetrate slowly throughout the night.  They all also seem to plump the skin making it look more hydrated and refreshed.  Don't regular night creams do this, you ask?  I guess they do, if you're using them just to hydrate your skin, but I usually use products to clarify and exfoliate my skin so that it looks brighter, and I find that those products make my skin look and feel drier instead of more hydrated.
The Garnier Ultra-Lift Miracle Sleeping Cream is the first sleeping mask that I've tried, and I have to say that I'm sold.  The mask has a bouncy texture, which is no doubt a replica of some Korean skincare product.  By bouncy, I mean that your finger kind of bounces off the top of the cream and you have to physically push in it there to extract some product.  Some have said that they leave their bouncy creams on their side to be able to get product out, but I just push my finger straight down the middle and out, and then I have enough product on my finger for my whole face.
The cream is nicely scented and light-weight, and I totally saw a difference in my skin after the first time using it.  Maybe I was really dehydrated but the cream just gave me lots of brightness and a glow in the morning so I loved that.  
Unlike a regular mask, you're not applying tons of product to your face – you're applying as much cream as you would normally apply and letting it soak in before you go to bed at night.  In the morning, I didn't notice any greasiness or oiliness, so this is different than a regular moisturizer.  It seems more water-based than emollient-based, and I quite like that. 
I should add that the cream is housed in a beautiful glass jar that fits into the palm of your hand, and looks quite chic in the bathroom.  The packaging is opaque so the light can't get into the cream, and the ingredients inside stay active for a longer amount of time.
The key ingredients are:
LHA – developed to boost radiance
ADENOSINE – helps to combat the signs of aging caused by fatigue
EXTRACT OF ALBIZIA – an antioxidant that combats fatigue, helping to control dull skin tone and unevenness and reduces wrinkles
HYALURONIC ACID – intensely hydrating
EXTRACT OF RUSCUS – used to boost skin's microcirculation
JOJOBA OIL – helps to strengthen the skin's natural barriers
LAVENDER ESSENTIAL OIL – helps improve the quality of sleep and combat the signs of aging
The Lavender is what I smell when I use the product, and I can't comment if it actually helps me sleep, but the cream does smell nice.  The scent dissipates or is un-noticeable a few minutes after using the product.
For a drugstore product, it's absolutely amazing and totally works.  Pick it up at drugstores now. $25.