If you have curly hair, you might know that it requires some special TLC.  You need to make sure that it's clean, but not dried out, and curls need moisture but not so much that they get weighed down.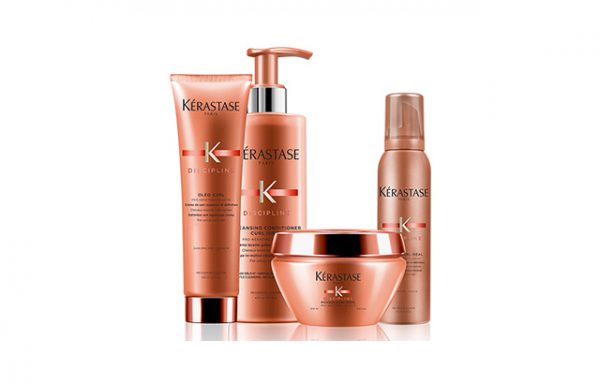 Kerastase's new Discipline Curl line of products might just be the products I use for LIFE.  Seriously, I've never tried products that are gentle, but still leave my hair clean.  I've never had such smooth defined curls that are still soft to the touch.  
My favourite product from the whole line has to be the Curl Ideal Cleansing Conditioner ($69).  It's the best cleansing conditioner that I have EVER used, and I have them on the go regularly. What makes this conditioner special is that it's got a super soft and light texture like a lotion, rather than a cream.  It feels like conditioner going on to your skin, but because it's like a lotion and a little more fluid, it's easier to rub it throughout your hair, with a little water.  The bottle recommends using about 4-6 pumps, and I've been getting away with just 4 and using it almost exclusively on my scalp.  This cleansing conditioner is sulfate and silicone free so while it's gentle on your hair and moisturizing, it also doesn't add build-up, but it also manages to get my hair clean.  It's not as squeaky clean as it would be if I used a shampoo, but it looks nice and clean and shiny, and feels super soft. 
While the shampoo sits and does its job in my hair, I use the Curl Ideal Masque ($66) on the length of my hair.  This mask is super thick and perfect for hydrating my ends. 
After shampooing and conditioning, I mix a bit of Elixer Ultime with the Oleo-Curl cream ($56).  It also feels like a lotion and is super light, but I need a touch of the serum to really define my curls.  I tried the Mousse ($46), but like most mousse products it had a slight cruch to it, so it's not something that I find myself reaching for.  If I need a touch more hydration, I'll use a bit of coconut oil but otherwise, I just let everything air dry and I'm pretty happy with  the look and feel of my hair the next day. 
Of all the products, I'm loving the Oleo-Curl cream and the Curl Ideal Cleansing Conditioner because they seem to be way better than anything else I've tried.  I like that the conditioner cleans but doesn't dry out your hair.  With most cleansing conditioners, I find myself reaching for a normal shampoo after about two days, because I can notice the build-up, but not with this one.  I haven't touched a foaming shampoo for weeks now and I may never go back.  
If you have curly hair, check out this line at your nearest Kerastase salon or purchase online.