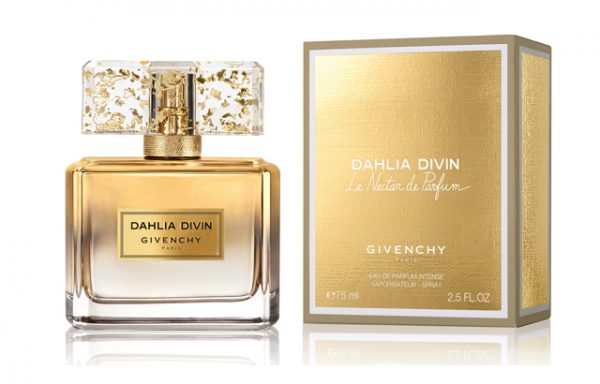 Givenchy has a new flanker to its popular Dahlia perfume, and it's the Dahlia Divin Le Nectar de Parfum.  It has a lot of the same notes: woods, rose, musk, but it's now enriched with a top note of tonka bean and vanilla which makes it smell decidedly sweet.  
These notes take Dahlia Divin into a gourmand territory.  The top notes of mimosa are sweet, the middle smells sweet, and even the floral musky drydown has sweetness in it.  
This is definitely a feminine scent and appropriate for the winter months, when it's nice to wear something warm and sweet to combat the dry nature of cold weather.  It lasts a really long time, with the golden mimosa notes really stealing the show and being quite apparent throughout the day.  
The packaging is beautiful – gold thread around the neck of the bottle, and gold leaf throughout the heavy glass stopper on top.  It makes for a precious addition to the vanity.
Available online and at Sephora and The Bay.