Actually, I have to admit that I've experienced higher than normal hair fall since I was young. It has always been an ongoing concern of mine, although my doctor and hair stylists have told me not to worry, and that I grow back the hair that I lose. Apparently, though my hair is super fine, there's also tons of it.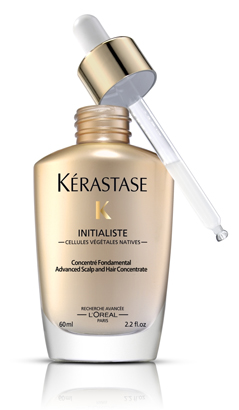 But still: when your hair is a tangled mess and you see so much of it falling out, it just behoves you to do something about it.
Thankfully, there are now products on the market specifically for my condition, and now one of my favourite hair care brands has something out just for me!
Kerastase Initialiste is a serum specifically to condition your scalp and take care of it so that you can help hair grow longer and stop hair from falling out. The serum promises shine, strength, softness, and substance and delivers on all four!
Intrigued? Watch this video to get an idea of what the serum is about:
So I hardly ever say this, but I truly did see a difference in my hair after the very first application. It was softer and smoother and very easy to care for right off the bat. It took a few uses, but I also see stronger hair – it just seems to not get as tangled and so not as much falls out when I comb or brush it.
After using the serum for about six weeks, I'm confident that it's making my hair grow better and look better.  The price – $55 for 60ml – is totally worth it because this serum works.  There's also an accompanying salon treatment.
Kerastase is sold exclusively at salons.