Lancome's Fall 2011 collection is named after Lancome's Parisian Headquarters. 29, Faubourg Saint Honore is the address for the company, and die-hard fashion/beauty types will remember that Lanvin has come out with a 22 Faubourg tote before, and Hermes has come out with a 24 Foubourg scent, both being named after an illustrious address. Thus, 29 St-Honore reminds us of Lancome's upper class roots and a place where the brand still belongs. The collection is similarly luxe and special. Red lipstick paired with neutral shadows gives a high-end beauty look that could work on anyone. The best part is all in the details.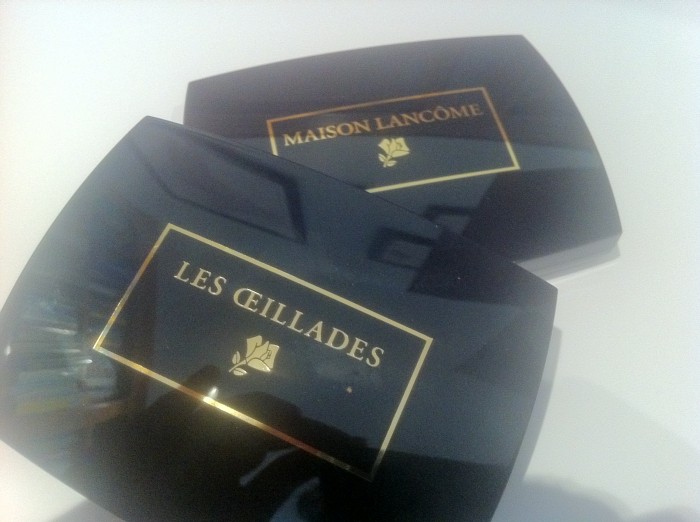 The best part of Lancome's Fall 2011 collection is the compacts.  They are luxe… so luxe that there is even detailing on the outside of the compacts! The engraving is meant to remind you of a plaque that you might see on the street outside a distinguished address.
One compact holds a face powder (Maison Lancome) while the other is an eyeshadow quad (Les Oeillades).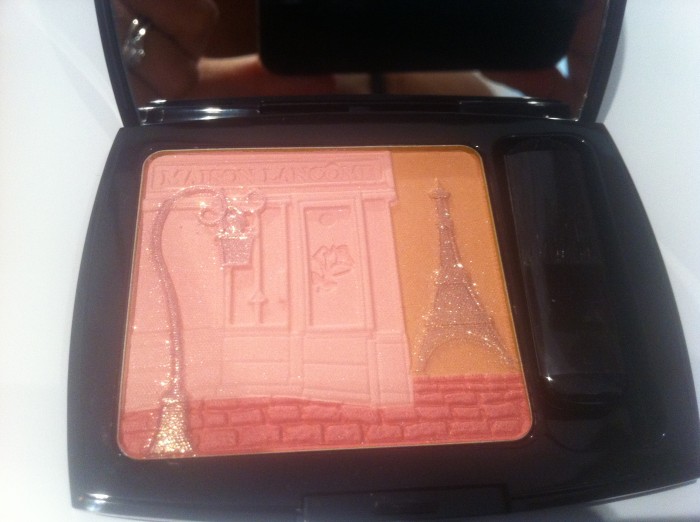 I'll start with the Maison Lancome compact.  In theory this is a blush – it is a mixture of pinks and corals that come out looking more pink than anything else.  The shimmer is only on top of the quad and blends away.  If you're not interested in using the shimmer, you could easily wipe it off with a tissue.  I found the colour to be quite light, so it's not something that I myself would use.
The blush is $48 and of course, limited edition.
The eyeshadow quad, however, is a completely different story.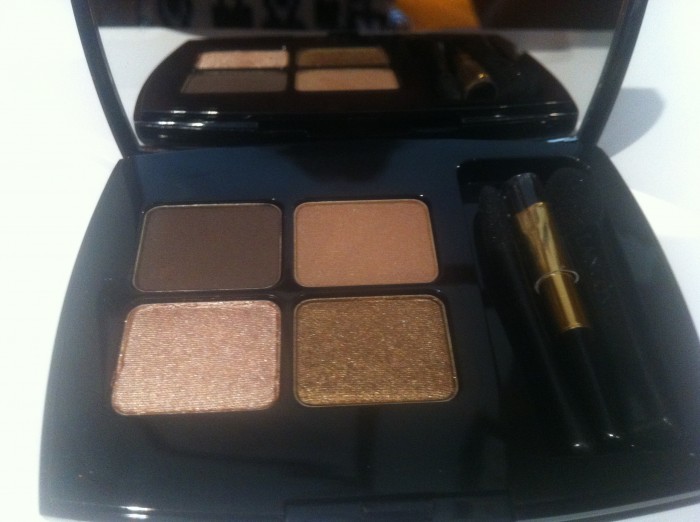 Pretty, no? Clearly this is something that everyone can use, and it's in my makeup drawer right now. The quad is called Blondette Fatale and is a good
mixture of shimmer and matte shades. The shades are all neutral and give you everything from highlight to defining options.
It is$54 and worth it if you can use every shade in the quad.
The neutral shades also go well with the lipsticks in the collection – they are all bright reds and so it makes sense that the eye makeup is more toned down.
Packaged in luxe gold, each retails for $40.
Finally, there are two nail colours which are must-haves with the eyeshadow quad.  The colours are Rouge St-Honore and 29 Noir.  Each is in a mini-vernis bottle and each will retail for $16.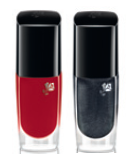 The collection will also include a special edition of Hypnose Drama mascara in Gris Fatal ($31), a dark grey. Personally I didn't find it deep enough to enhance my lashes but that's because my lashes are already quite dark and the grey took them down a notch. If you have blonde lashes or even light brown, then I'm sure the dark grey will darken them just enough.
Overall, I think that this is probably one of my most favourite Lancome collections in quite some time.  It's the pretty neutral quad and the nail colours that I first loved, and then the little details that just took it over the top for me.
I love that each compact is a sleek lacquered box that has writing on top of it.  The gold flourishes are awesome, and a mixture of grey and red is so on trend for the Fall.  I am already dreaming up some kind of grey and red reverse mani, perhaps for Christmas.
What do you think?  Is there anything you'll be picking up from the collection?
It goes on counters in September.