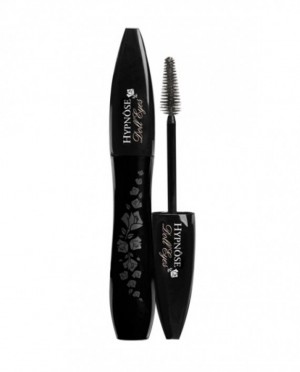 Brand new this August is Lancome's newest mascara, called Hypnose Doll Mascara. The idea is that it gives you long almost spidery lashes that look like they belong on a doll!
It's a brilliant idea, and I love that they've taken one of Lancome's most popular mascaras and tried to improve it!
I think the formula is pretty much the same, but the new wand takes it to the next level. The wand is in the shape of a cone, and the pointy tip helps you reach each and every lash. Moreover, there's less clumping and the wand seems to grab lashes making application easy and clean.
This mascara won't give you major volume, or long lush lashes, but it will give you great definition and amazing coverage from length to tip. You'll be able to get even the teeny tiny lashes towards the middle of your face, framing your eyes completely with lashes.
I should also note that in the US this is Lancome's first fragranced mascara.  It has a hypoallergenic rose scent that is delicate and only present when you take the wand out of the tube.  Once you apply the mascara there is no scent.  I don't know why Lancome added the scent, or why it would be essential, but I do like it and I think that it adds some luxury to a product that most people use daily.  The Canadian mascara is not scented (they must have done studies that checked the preferences of both consumer bases), but the US version is the one that I tried.
Get it at the Lancome counter this August for $31.