Ok, I've become a lipstick lover and I've been heading on over to the MAC counter to stock up on some favourites and must-haves, when this caught my eye: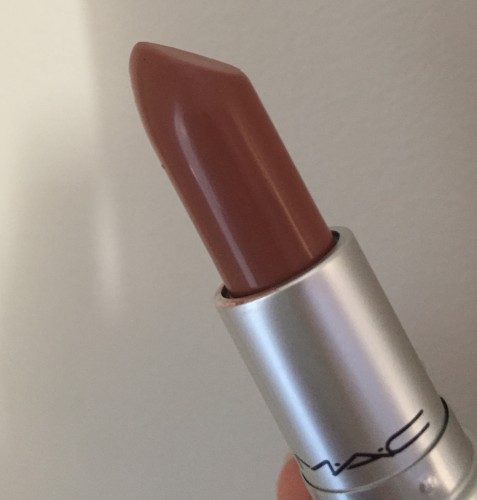 You're looking at Pillow Talk Creamsheen lipstick which is part of the MAC Veluxe a Trois collection.
Described as a Malty Warm Nude, it looked like… yep, it was, the perfect nude lip colour.  It's just the right blend of pink and beige and because it's a Creamsheen formula, it has a bit of depth to it and doesn't look completely flat on your lips.  Because of the amount of beige in this lip colour, it really does look more like a nude than a pink, and is best worn with a smoky eye or lots of black eyeliner.  It just doesn't wear that great by itself and isn't a colour you can just throw on, but if you like nude lippies, it's beyond perfect.
I will say that this wears differently depending on your colouring – I'm warm-toned already, so the pink in this lipstick did show up on my lips.  If you have very fair skin, it will be more brown but that's very trendy right now, so feel free to rock a brown lip!
It is quite pigmented with medium coverage.  I needed two coats to get full coverage, and it wore evenly throughout the day although it did get more dry as the day went on.
The colour is limited edition, so if you want it, you should get it before the collection is gone.  That said, it's a repromote which means that they've brought it out before.
It's my new fave lipstick.