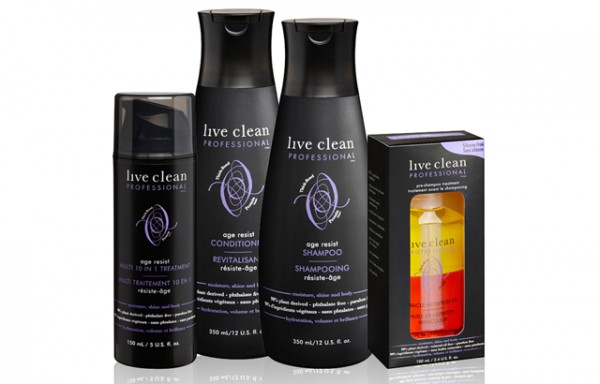 Basically all my friends and family love Live Clean products, and so I'm thrilled to be able to share some details about their new Age Resist Line with you.
First: as always, these are natural and eco-friendly solutions. There are no sulfates or parabens in this line and there aren't any silicones either! The entire line is petroleum free. The Conditioner and Leave-In treatment are 96% natural, while the shampoo is 98% natural and the pre-shampoo is 99% natural. I think it's the high level of natural ingredients that makes people really love this line and gravitate towards it.
According to Live Clean, the symptoms of Aging Hair are the following: diminished density, changes in hair texture, dullness and lack of shine, increased dryness, and fragile hair. I don't feel that I have aging hair yet, but I definitely suffer from some of the listed symptoms from time to time, especially increased dryness. These days it seems that no matter what I do, I can't keep my hair hydrated!
The Live Clean Age Resist collection includes a shampoo ($8.99), conditioner ($8.99), leave-in conditioning treatment ($8.99), and pre-shampoo treatment ($11.99). All the products contain Avocado and Rosehip oil, and the pre and post conditioners have jojoba oil in them as well.
The shampoo is clear. It is hydrating but light, and despite the fact that there are no sulfates in the product, it does lather a lot and cleanses nicely without stripping the hair and making it too dry.
The conditioner is super thick and heavy and actually kind of greasy. If you have fine hair, you will want to avoid this because it doesn't really wash out of your hair completely and does leave it feeling slightly slick. I don't use this conditioner when I have to blow out my hair, simply because it's difficult for me to get enough volume after I use this conditioner. That said, it does have an impressive amount of hydrators in it, and it would be an excellent option for very coarse and very dry hair. If you're the type of person who doesn't like to put very many products in your hair, then this would be a great conditioner because it will give you extra hydration.
The Age Resist Multi 10 in 1 Treatment is also super thick, but I love using it on my ends because it leaves them frizz-free. I like that you can just use a tiny bit and it goes a long way. It is great for frizz-prone hair.
Finally, the Age Resist Miracle Nutrition Oil is a dual-phases product with one hair being water based, and the other being oil based. You shake up the bottle and mix the two halves together before applying to your hair. Of all the products in this line, this pre-shampoo treatment is the lightest and easiest to use. I've always used pre-shampoo treatments in my hair – everything from the uber-pricey Ojon to plain old Coconut Oil, and they really work to make your hair stronger, shinier, and better hydrated. If you've stayed away from pre-shampooing treatments in the past because you find them thick and heavy, then this is the one for you to try because it's absolutely light and washes out so easily.
At the end of the day, I'm using all the Age Resist products except the Conditioner which I find just too heavy for my fine hair. If you have thick unruly or coarse hair, you will likely love this line. If you need an extra dose of moisture, either the pre or post conditioners are great to try because they're so affordable. And if you like using natural products, then this is probably one of the most nicely formulated and effective lines there is.
The Live Clean Age Resist Collection is available across Canada at Shoppers Drug Mart, Loblaw's Superstore and Walmart.