As you run about this holiday season, getting everything ready for you and yours, don't forget to take care of yourself.  I indulge by sitting in the hot tub every Monday and Wednesday as my kids go to their swimming lessons, but as those come to an end, hopping into a warm bath may be my go-to.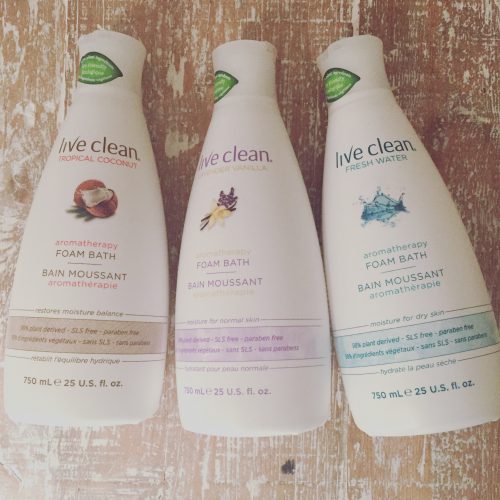 Live Clean's Aromatherapy Foam Baths help get all the senses engaged with their three lovely scents – Tropical Coconut, Lavender Vanilla, and Fresh Water.  I seriously have a hard time picking a favourite.  Tropical coconut is fruity but still fresh, Lavendar Vanilla is calming and not too floral, and the Fresh Water version is refreshing and mildly inspiring.  
The best part has to be that these foam baths give you TONS of bubbles that last and last.  If you like to hang out in the bath for a while, then this is for you.  
Of course, all versions are hydrating and in earth-sensitive eco-friendly formulations.
Almost everyone is already a fan of Live Clean, but here's what you may not know:
98% plant and natural based ingredients
Enriched with certified organic botanicals
SLS and silicone free
Petrolatum, paraben and phthalate free
DEA free
Phosphate free
Dye free
Vegan formulas
Never tested on animals
Hypoallergenic
Contains biodegradable ingredients
recyclable packaging,
Pick up the Aromatherapy Foam Baths at Walmart, Walmart.ca, Well.ca, Sobeys Ontario, Overwaitea.  $9.49 for 750ml bottle.