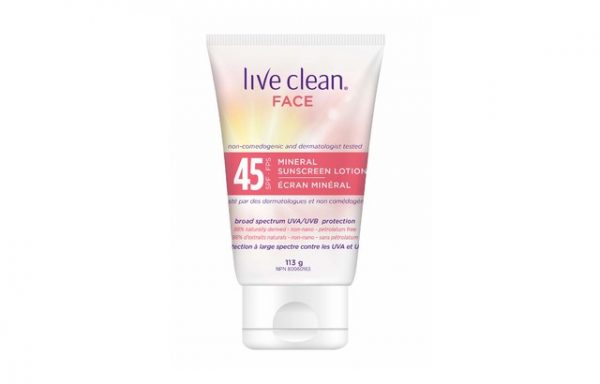 Live Clean has a mineral sunscreen that's SPF 45, and if you want sunscreen that's "safe", with ingredients that are not as harmful to your body, then this is one that you want to check out.  In case you're wondering, those ingredients are zinc oxide and titanium dioxide, which are used in sunscreens but typically in a smaller amount because they often show up white on the skin.
Live Clean says that this sunscreen is not going to be white on your skin, but I have found that it needs a lot of blending for that to be true. In fact, to be safe, I like to blend it into my neck too because it really does show up that white on my skin.  To be fair, if you're wearing foundation on top, you may not have to worry that much because the foundation tends to cover the whiteness, but still, the fact that I have to worry about it at all is not nice.
This is a nice moisturizing sunscreen that really does a great job at blocking all kinds of UV rays on the skin, and a great bit if you want a mineral sunscreen.
At drugstores for just $15.99.