Have you tried a micellar water before to clean your face?  It's essentially water that has microparticles of oil in it, so as you remove your makeup, some of the oil stays on your face helping to moisturize your skin.  It's maybe one of the easiest ways of removing makeup because it really does work even though you have to use lots of product to get all the makeup off.  Usually people douse cotton pads with the micellar water and then wipe their face with them.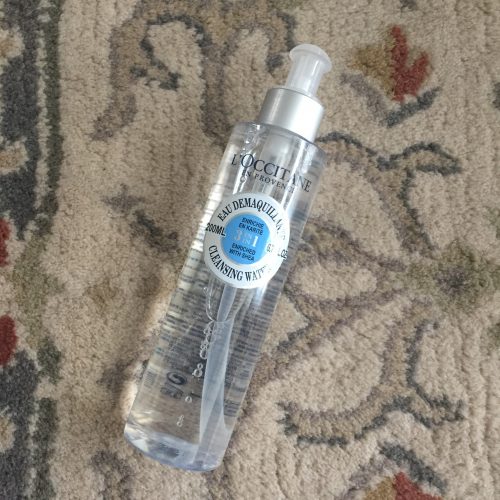 Normally, French pharmacy brands use mineral oil as their oil of choice in cleansing waters, but now L'Occitane has a Cleansing Water, and you can bet that theirs does not have mineral oil in it.  Instead, this is a blend of glycerine, water, and shea butter extract to help wipe off makeup and moisturize skin.  
This cleansing water really does work – makeup comes off so easily and quickly and even mascara is not safe.  I wet a towel or even a muslin to get all the makeup off quickly and effectively but then follow up with another cleanser so that I can be sure that there's no residue left.
$29 online or at L'Occitane boutiques.