Curly hair needs balance.  It's super dry by nature but put too much conditioning agents in it and it just gets weighed down.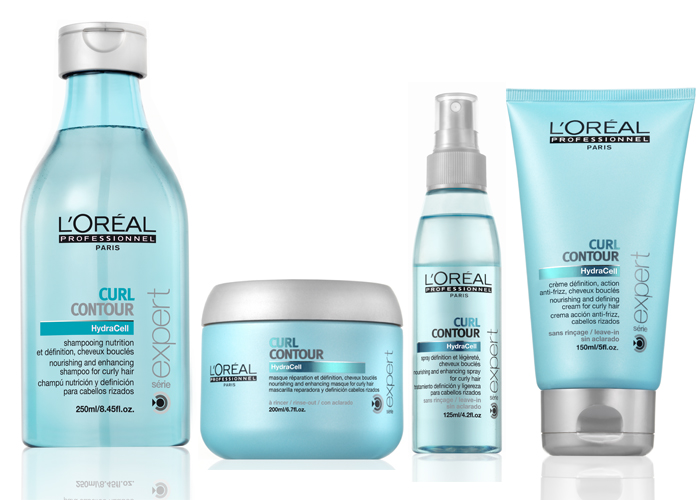 L'Oreal Professional had this in mind when they created their Curl Contour line.  This line of salon products for curly hair have conditioning products that are the best for curly hair.
Over the past few weeks I used the Nourishing and Enhancing Shampoo, the masque, and tested out the Defining Cream and Enhancing Spray, both of which are meant to be leave in conditioners.
I love that the shampoo is clear, which means that ti's clarifying and not loaded with heavy conditioners.  The mask was super moisturizing but also ultra light which meant that my hair was bouncy with its curls after I was done with it.
The Hydracell Nourishing and Defining Cream is a leave in conditioner that has some hold to it.  I am a stickler for really soft hair, so this wasn't for me because it left my hair with a bit of crunch which isn't my style.  The Hydracell Nourishing and Enhancing Spray, however, is amazing.  It's so light and easy to use, that I would even recommend it for those who don't have curly hair.  It will leave your hair soft and smooth and really easy to comb through.  I just let my hair air dry and finger curled it and I was good to go!
Pick up L'Oreal Professional products, including the Curl Contour line, at your local salon.
Hydracell Nourishing and Enhancing Shampoo: $24.25 (250 ml)
Hydracell Nourishing and Enhancing Masque: $28.10 (200 ML)
Hydracell Nourishing and Defining Cream: $21.35 (150 ML)
Hydracell Nourishing and Enhancing Spray: $19.15 (125 ML)